BICYCLE REPAIR STATIONS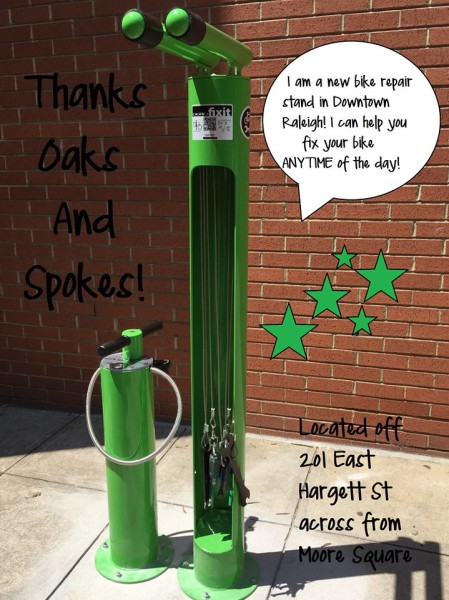 Similar in scope to the bicycle corral on Hargett Street, your friends at Oaks and Spokes are at it again with another project to impact bicycling in the triangle region. We have fundraised to provide for 2 bicycle repair stations in Raleigh!  To make this a reality, Oaks and Spokes crowd fundraised over $2,000 from generous citizens interested in making Raleigh a more bike-friendly city.  Goals of this project include showing decision-makers that bicycling is something citizens desire in hopes that more bike friendly infrastructure will follow and allowing citizens an opportunity to facilitate these changes.  Oaks and Spokes is proud to have facilitated this project! Some facts about the project:
Stations include a heavy duty pump, stand, and set of tools.
Two stations were installed in this effort: one on the Neuse River Trail at Anderson Point Park and one on Hargett Street at Marbles Kids Museum (between Blount St and Person St) –  a popular cycling  corridor connecting destinations in downtown Raleigh.  A third station was sponsored by Oak City Cycling Project and is located at Umstead State Park.
Cost-sharing occurred between the BikeRaleigh Program and the Parks, Recreation, and Cultural Resources Department on the purchasing and installation of the stations.
A special thanks goes out to Natalie Anderson at Crank Arm Brewery and Mac Cady at Cafe de los Muertos for assisting Oaks and Spokes with special promotions and events to support our efforts.  We are also proud to partner with Marbles Museum on our downtown location.  They truly are bicycle friendly businesses! We  would additionally like to give a shout out to the Raleigh-based band Adult Science who performed an awesome set at our Halloween fundraiser event.
 A  big
Thank You
 goes out to the generous project supporters!
Annette Jackson
Jessica Smith
Hyder Abadin
Ian Hands
Anna Stefanelli
Doug Johnston
Julia Garland
Heather Yandow
Johnny Dawkins
Aimee Holtsclaw
Jeff Wright
Michelle Willcox
Anna Stokes
Laura Williams
Tad Thornhill
Charlie McDade
Christopher Haisty
Chris Voss
Jack Warman
John Cosgrove
Leo Suarez
Sarah Ferguson
Mac Cady
Kristy Dactyl
Michael Dayton
Shane Smith
Mac Cady (Cafe de Los Muertos)
Pam Blondin (DECO Raleigh)
Daniel Farrell
Harry Rybacki
Joselle Torres
Adam Chasen
Daniel Morales
Michael Hawthorne
Arlen Mabe
Evan Brigham
Sally Edwards (Marbles Museum)
A map of the Bicycle Repair Stations located in Raleigh:
BICYCLE CORRAL
Oaks and Spokes partnered with the BikeRaleigh Program to install a Bicycle Corral on a key bicycling corridor in downtown Raleigh.  The Bicycle Corral was generously donated by Saris Cycling Group.  It is Oaks and Spokes hope that this increased bike parking through this pilot project will set a precedent for business owners to coordinate future installations with the BikeRaleigh Program.  Some facts about the project: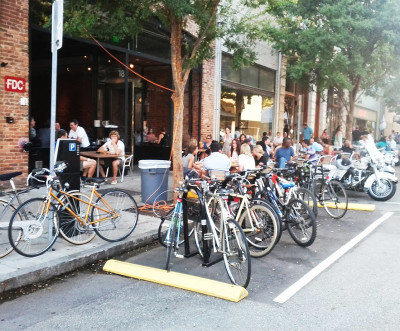 Project sets precedent for future installations.  Through this project design and  installation specifications were added to Raleigh's Street Design Manual and Standard Detail Drawings
Replaces one on-street parking space
Can hold approximately 10 bicycles
First of it's kind in the region!