Oaks & Spokes is growing bicycling community and culture in Raleigh.  We support bicycling as a viable mode of transportation and intend to leave a lingering impact through outreach, collaboration, and making real change within our city.
We are an all-volunteer board  composed of 9 individuals who live in and/or work in Raleigh, NC.
We host and promote cycling related events in and around Downtown Raleigh.  These events are almost always free and intended for any and all types of people who ride bikes.
We facilitate innovative projects like Bicycle Repair Stations, Bicycle Corral Parking, and are always working on new ideas!
We have held an annual festival each spring since March 2013 through collaborations with people and businesses in the city.  The first Oaks and Spokes Festival occurred March 2013 and had over 1,200 participants.
We work toward better facilities and changes to policies that affect the ability to safely and efficiently ride a bicycle in Raleigh and in North Carolina.  We keep a keen eye on bicycle planning in Raleigh.
Meet our Board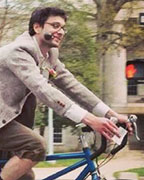 Adam Chasen
In addition to being Oaks and Spokes financial guru, Adam is a big picture thinker for Oaks and Spokes and occasionally steps to the plate to be a voice of reason.  He's an incessant tinkerer who very much enjoys building things, including an eco-friendly, award-winning modern home in east Raleigh.  He bikes to work at a downtown start-up called Pendo, has a new baby girl, a flock of backyard chickens and can often be seen cruising with his wife on their tandem bicycle. 
---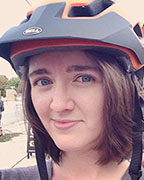 Dawn Keyser
Dawn is an NC native who has lived in Raleigh for nearly 11 years, and has been cycling here regularly for the last 4. Her first introduction to the Raleigh cycling community was through the weekly Benelux social rides. After learning about Oaks & Spokes through the Tweed Ride and other events, she got bitten by the advocacy bug and decided she wanted to help make Raleigh a better place for bikes and bike riders. Dawn is currently the Marketing Coordinator for Oaks & Spokes, and is responsible for our social media accounts and drafting the monthly newsletter. When she's not riding her bike or talking about bikes, she works as a barista/baker at a local cafe and as an assistant baker at Boulted Bread. She can also be found volunteering at the NC Museum of Natural Sciences and at the Well Fed Community Garden.
---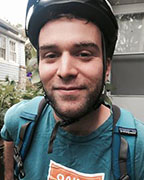 Evan Brigham
Evan currently serves as the president of Oaks & Spokes. In addition to O&S, Evan is a commissioner of the City of Raleigh's Bicycle and Pedestrian Advisory Commission and also a board member of BikeWalk NC. Evan is a daily bike commuter and hopes to never own a car.  During the day Evan is a traffic engineer, but nights and weekend he enjoys gardening and doing bike stuff!
---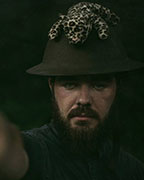 Harry Rybacki
Harry obtains peace of mind and clarity riding his bicycle.  As our Advocacy Coordinator, he has worked on advocacy issues, strategic thinking, the development of web-based membership tools and continues to make contributions to Oaks and Spokes because he is inspired by the direct impact he sees the organization having on the community in Raleigh.  In his spare time he enjoys coffee, photography, and reading.  Harry bike commutes daily to downtown as a software engineer at Red Hat.
---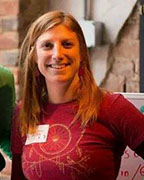 Kristy "Dactyl" Jackson
As an everyday bicyclist with an enthusiasm for active transportation, Kristy spends her days and nights using practical experience, planning education, technical know-how, incessant enthusiasm, and go-getter attitude to make the world a better place for bicycling. She has strong skills in stakeholder facilitation, public outreach, data collection, analytical research, public speaking, and technical writing from her work on a variety of multi-modal projects, studies, and program development. She is an original founder of Oaks and Spokes, coordinated the Raleigh's first three bicycling festivals and worked with public and private agencies to install the first on-street bike corral and two bike repair stations in Raleigh, NC. As a professional, Kristy is a Bicycle & Pedestrian Project Manager and Planner at Stewart in downtown Raleigh.
---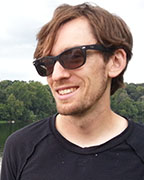 Kyle Hord
Kyle currently serves as Secretary on the board of Oaks and Spokes. He is a frequent bike commuter and a member of Raleigh Bike Polo. When Kyle isn't out on the polo court, he enjoys fixing bikes and has volunteered his mechanical skills at numerous bike co-ops, feeding his passion to ensure that no one dislikes riding a bike because of disrepair.
---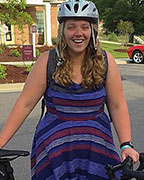 Molly McKinley
Molly is a grassroots organizer for the North Carolina Conservation Network and a graduate of Peace College in Raleigh.  Molly got involved with Oaks and Spokes through planning the 2016 Oaks and Spokes Festival.  She has since taken on a role as co-chair of the Advocacy Committee and loves to get out in the community to talk about bikes!  When she's not riding her bike or advocating for transit, she enjoys baking and reading up on all things politics.
---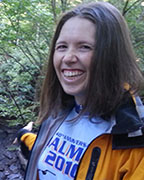 Rebecca Proudfoot
Rebecca learned to ride a bike as a training wheel dependent first grader.  But once the training wheels were off she kept rolling along and as an adult started promoting bicycle advocacy in Lexington, Kentucky; Savannah, Georgia; and Raleigh, North Carolina.  As commissioner of the City of Raleigh's Bicycle and Pedestrian Advisory Commission, Rebecca works to promote bicycling and walking infrastructure in Raleigh.  She also serves as the Membership Coordinator for Oaks and Spokes. Rebecca is very fond of bike touring and bike commuting and can't wait for Raleigh to have it's own Bike Co-Op.
---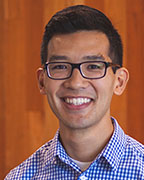 Trung Vo
Trung is an everyday bicyclist, licensed engineer, and certified planner. During his working hours, he develops system plans and facility designs to make communities more bikeable and walkable. Outside of work, Trung is a League Certified Instructor, which means he's been certified by the League of American Bicyclists to teach bike safety and riding skills. He's also a Greenway Volunteer for the Raleigh Police Department, so he keeps his eyes open for safety and maintenance issues while he's out enjoying the greenways. He and his wife Sadie have been married for over five years, live in downtown Raleigh, and are expecting a baby boy this December!