So there's a $440 Million dollar road widening project that will affect drivers, bicyclists, and pedestrians in the entire Raleigh metropolitan area (i.e. 1.2 Million people).  It's on the books to break ground in 2018.
You already had your opportunity to go to the public hearing last week but fortunately there's still time to comment until AUGUST 27.  We really encourage you to visit the project website to take a deeper dive but there are some pretty significant impacts to bicycling and walking that we see coming down the pipeline.  Take the interactive survey to give your input here: 
 https://ncdot.publicinput.com/1851
We don't expect a lot of great things to happen for bicycling and walking when lanes are added to an interstate, but there are opportunities out there.  The public information given in 2014 showed that there would be an opportunity for bike/ped improvements at Western Blvd when the Diverging Diamond Interchange option was selected to move forward.  I'm not really seeing these come to life in 2017 where we see one sad, poorly articulated, sidepath along the west side of Western Blvd near the K-Mart where a poorly maintained sidepath already exists.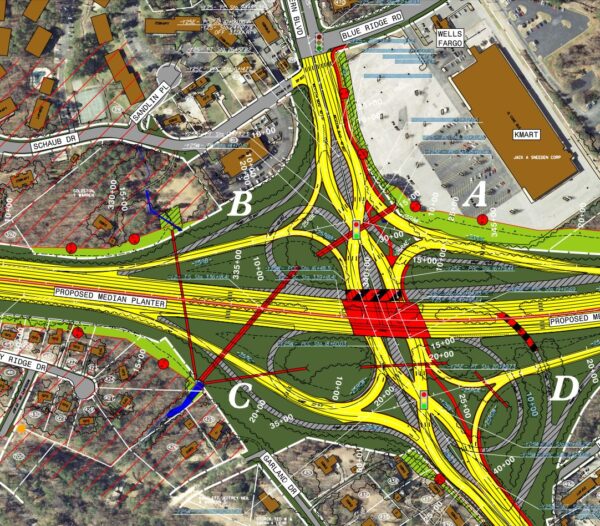 DDI's are actually known for their ability to do more with less so I'm disappointed to see that with all of this planning and laneage savings, we can't see that people can walk or bike down Western Blvd on BOTH SIDES of the road.  Basic, right?  Perhaps there could be a low stress connection to Garland Dr.  With the plan as is, if everyone is supposed to cross over at Blue Ridge Rd, what kind of improvements are being made so that people walking and biking across five lanes of traffic and then two double right turn lanes are safe?  What about adding a crosswalk on the other side of the intersection? Also, The project doesn't extend through the Blue Ridge Rd Intersection.  That means the existing sidepath on the south (continuing to the intersection as a sidewalk) won't be improved for people to get to the intersection to cross.  It also means the curb ramps on the south side of the intersection likely won't get upgraded to be compliant with the Americans with Disabilities Act.
The Hillsborough Rd intersection shows us the sidepath to nowhere, although considering what is there now, I suppose this is an improvement.  There's not much to say about this except that if it continued to Blue Ridge Rd, we'd actually be able to get somewhere.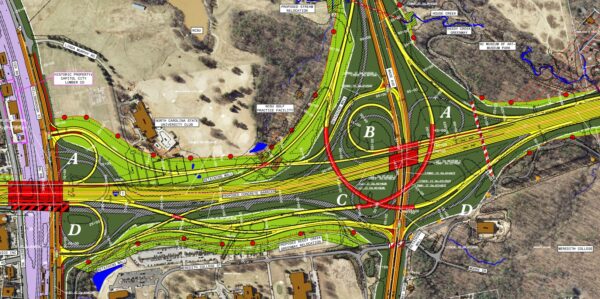 At Wade Ave, the Reedy Creek Greenway gets bumped deeper into Meredith Campus.  The flyovers/rams and various alternate configuration gobble up the real estate.  Since all of the alternatives in 2014 gave us this insight, there isn't much to say about this.  We are concerned about noise and pollution, however.  The current feel of the greenway doesn't lend itself to realizing you are paralleling this roadway.  Options to abate noise pollution should be considered.  Also with the popularity of this section to the Art Museum, it is surprising that NCDOT is going with a 10′ trail width instead of Raleigh's new 12′ standard or even a 15′ wide trail.  With the amount of pavement going into the overall project, this isn't a lot to ask.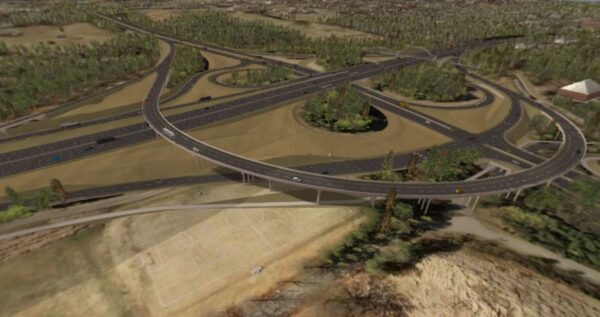 There's also the question of how much pavement is too much pavement, really.  The project videos give us  good insight into what this will actually look like from the I-440 Multi-use Overpass.  We've taken the liberty of cutting these screenshots for your viewing showing you the proposed increase in the amount of pavement here.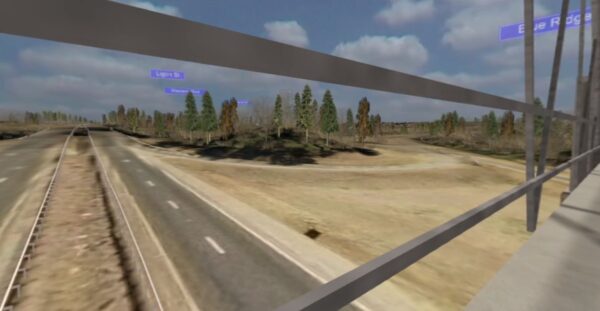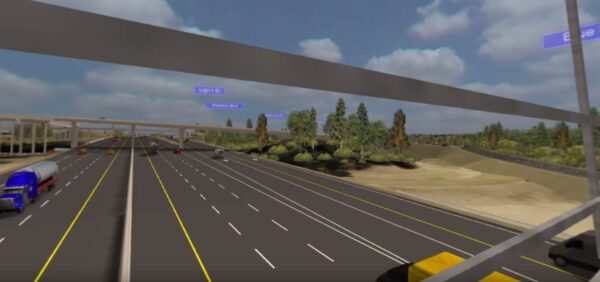 At Ligon Rd, the tunnel is generally used as a bicycling throughway is eliminated in alternatives that add a bridge structure for motor vehicles.  This alternative does not show any bicycling facilities and grades would make this a steep climb.  It does not appear that alternatives to create a through-road in this configuration would not be an improvement to non-motorized accessibility on Ligon Rd.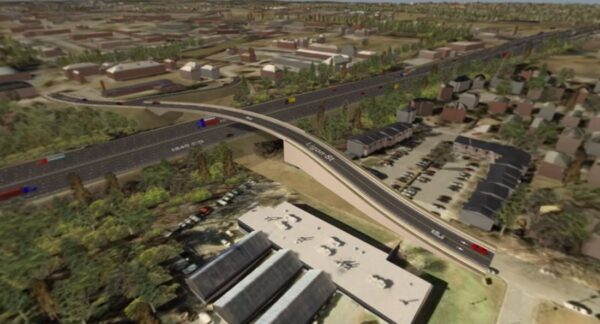 The project does improve some conditions for bicycling and walking.  There are two bridge replacements that add 5′ bicycle lanes and sidewalk on one side at Athens Dr and Melbourne Rd.  This is a considerable improvement over the existing conditions which lack pedestrian and bicycling facilities at present.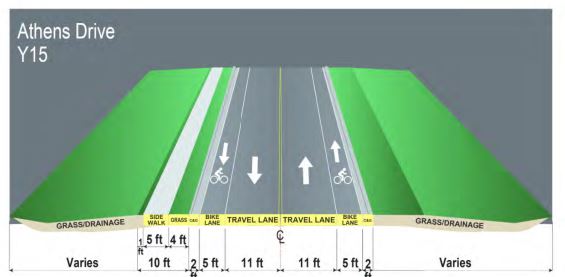 We'd love to see more detailed signal plans, pedestrian phasing, crosswalk locations, refuge islands at the crossings, and get a better sense of the Reedy Creek Trail realignment and how that will feel.  We'd also like to know more about any ADA accessibility improvements.  If anyone at NCDOT wants to send additional details on what is being proposed, we'll take them at info@oaksandspokes.com
And there's no doubt that this is a lot for a citizen to take in, but we do encourage you to not be discouraged and to send your Comments or fill out the Survey by August 22nd.  And get ready for the ground to break in 2018, hopefully with good details in the bicycle and pedestrian design that are not shown in these public documents.