The following was written by our Advocacy Coordinator, Molly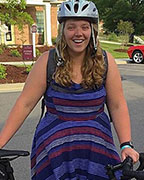 McKinley. We were excited to hear all about her experience with Bike Share in Denver, Colorado, and we hope you are too!
So, long story short – In August I went to Colorado for vacation and geeked out about the bike infrastructure in Denver almost as much as I did over the 14ers we went to. Below is a nerdy-in-depth-yet-lighthearted analysis of our Denver experience by bike and what we can strive for here in Raleigh.
First, you should know that my partner Ben and I both love multi-modal transit (and we wanted to save some money) so we decided to go without a rental car while we were in Denver. I knew we'd use the bus rapid transit for a day trip to Boulder and the light rail to get to and from the airport, and I figured we'd primarily use the bus system to get around town. Turns out, the local bus service never quite made sense for the trips we were making and our Airbnb was conveniently located two blocks from a Denver B-Cycle station, so we ended up taking most of our trips on two wheels.
I had only ever used a bikeshare system in Washington DC last winter when Ben and I went for a short visit. I'd say we had an overall positive experience, but we didn't take too many rides so I can't say I got a thorough feel for it. In Denver we used the bikeshare every day we were there and probably only took 3-4 Lyft rides (one before we started using the bikeshare and, well, Denver has good beer).
We spent three days in Denver, here's the skinny on our biking adventures:
Saturday: We got in to town late on Friday night and our second order of business, after brunch, was to secure some eclipse glasses from the Denver Museum of Nature and Science. After picking up our snazzy eyewear we found the BCycle station on site, bought our 24 hour passes, and mapped out a route to Cheesman Park and the Denver Botanical Garden. We were pretty psyched about how easy it was to get around, how much open space there was, and the mountain views.
Sunday: Since our BCycle 24 hour passes were good until 11:00am or so, we took the Cherry Creek Trail from our AirBnB to Union Station to catch the bus to Boulder. I had heard a lot about the Cherry Creek Trail, but it exceeded expectations. As it is named, the trail runs beside the Cherry Creek and is 42 miles long and starts in Downtown Denver.
Monday: After our relatively short ride on the Cherry Creek Trail on Sunday we wanted to explore more. We took the trail out to the Cherry Creek Shopping Center and then rode to Washington Park. The trail was so easy to navigate and the BCycle stations were pretty easy to find on the app. Washington Park was bike/ped/duck heaven. Think big park with a lake and a loop around it with separate lanes for bikes and runners/walker.
After taking a short snooze at Washington Park, Ben and I rode to Great Divide Brewing Co. We said "woaaaahhhh" and "how cool is this?!" a lot while biking around Denver, but I think this ride had the highest count of exclamations. We started this trip right around 5:00pm from Washington Park. We took a few side streets to get to the Cherry Creek Trail. When we got on the trail, I'm not kidding, it was like a bike super highway! I've never seen so many people riding on a trail outside of an organized event. It was probably 80% commuters and 20% people riding for recreation. After about 10 minutes on the trail we exited downtown to take one of the main roads to the brewery. The on road infrastructure was out of this world. There were parking protected bike lanes, bike signals at intersections, and best of all, cars yielded at potential conflict points.
Anything I didn't love
I have tried to think of something that I didn't like or that I would improve about our experience, but I really can't.
Why I think bikeshare in Denver worked so well for us
Convenient bikeshare stations: the Denver BCycle stations always seemed to be close to where we were going and conveniently located along our route. Denver has about 88 stations with about 700 bikes.
Wayfinding: I will say that we always looked up a route on our phones before hopping on our bikes, but the wayfinding signs around the city were tremendously helpful. We missed a few turns on our rides, but there were always signs for trail connections and points of interest – great for out of towners, like us.
Connected, protected on street infrastructure and trail systems: The connectivity of the trail system with lower traffic streets and streets with protected bike lanes brought us a lot of comfort, especially as people riding these bulky bikes with no idea where we were going. I'd love to see parking protected bike lanes in Raleigh.
Lots of other people on bikes: I know this sounds like an exaggeration, but there were several trips where we saw more people on bikes than we did cars. That obviously doesn't hold true for the city as a whole, but still, the amount of people on bikes was so awesome. I get excited when I see one person riding a bike on my ride to work in Raleigh – I was losing my mind about how many people were riding in Denver.
24 hour BCycle membership: I don't know how most other cities do their bikeshare passes, but I will say that the 24 hour pass was not only a great value for the amount of trips we took, but it kept us going back to the bikes! We knew we had already paid for the 24 hour period, so it would have been a waste of money to use any other form of transportation.
Other things to note
Customer service by Denver B cycle folks: Ben and I checked out our bikes with one credit card so our passes were linked. I got a text from BCycle saying that we had been charged a $30 fee for returning a bike late. We knew that most of our trips were right around 30 minutes (the free period) so we called the customer service number to see what was going on. It seems like one of the bikes didn't get locked back in the dock completely, but since we checked out our bikes together, we were refunded the $30 fee because they could see when the other bike was returned. This was probably one of the easiest customer services experiences we've ever had.
We should have brought our helmets: In the frenzy of packing for the trip we didn't think about bringing our helmets with us. Because of the amount of riding we did, in hindsight, I really wish we had brought our helmets. Next time we travel to a city with a bikeshare, I'll definitely be bringing mine along.
What Raleigh can learn from Denver
My bicycling experience in Denver left me feeling optimistic for the future of bicycling in Raleigh. From what I can tell, Denver's bikeshare system began operating in 2010, putting them pretty far ahead of us on that front. The city's on and off road bike infrastructure is also more mature than what we have so far here in Raleigh, leaving us lots of room to grow, especially with the City's new bike plan.
I'm not sure which came first in Denver – the sophisticated bike infrastructure or the significant ridership, but they both seem to be feeding off of each other now. Since moving to Raleigh in 2010, I've watched better bike infrastructure go in and I've noticed more riders on the road, and as far as I can tell, we'll keep moving in that direction.
I hope when the City of Raleigh's bikeshare system is implemented that it is convenient and accessible for those curious riders, that stations are thoughtfully planned on roads with already existing bike facilities, and that a more substantial wayfinding program is implemented, especially in the area around the first 30 stations. I'd also like to see more truly protected on road bike facilities throughout the city.
I plan on using bikeshare on as many of my adventures in new cities as possible – it was such a fun way to explore a new city. Have you explored a new city by bike? Tell us more in the comments below!