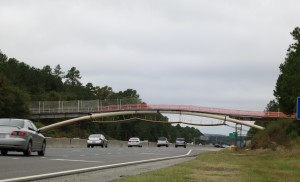 The American Tobacco Trail's (ATT's) Bicycle and Pedestrian Bridge is a 270-foot long steel footbridge  built over Interstate 40 and, when completed, will result in a continuous 22-mile trail stretching from downtown Durham to Wake County. Back in July, the City of Durham scheduled the ribbon cutting ceremony for the Pedestrian Bridge for October 12, but a combination of construction and design flaws with the pedestrian safety fence pushed the opening of the bridge back to December 2013. While the bridge opening was delayed, the City of Durham decided to proceed with the opening ceremony on October 12.
East Coast Greenway Alliance Executive Director Dennis Markatos-Soriano said he was apprehensive when he heard the event was still going forward, but after the event started, said that it feels right.
"This is more true to where we are as a region, as a state, as a country – we are almost there," he said, adding that he's looking forward to when he can enjoy biking with his two sons to museums in both Durham and Raleigh.
While a two month delay in the opening is disappointing, it's just a short time compared to the decades spent planning the bridge.
In the late 1980s, Triangle Rails-to-Trails Conservancy (TRTC) was founded and began a grassroots campaign to preserve old railroad corridors and convert them into bicycling and walking trails. The ATT was incorporated into the 1987 City of Durham Master Plan, and in 1992, the ATT Master Plan was developed.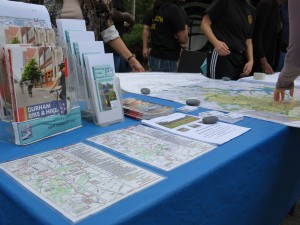 The State of North Carolina doesn't have a rail-trail program in its Department of Transportation or Department of Natural Resources departments, unlike some other states. The rail-trails in North Carolina are the results of volunteer local groups with a vision and a dedication to preserving these corridors for long-term public use.
The ATT is now the longest trail rail in NC, and the Pedestrian Bridge will close a four-mile gap that will complete the missing link of this important transportation corridor and improve users' access and connectivity. The bridge is located just west of Fayetteville Street and the connection to the trail heading south is located at the Streets at Southpoint mall.
City of Durham Mayor William V. Bell spoke of the importance of the Pedestrian Bridge and of the ATT during the ceremony, and said the further delay of the opening won't change how the community will feel about the bridge once it's opened.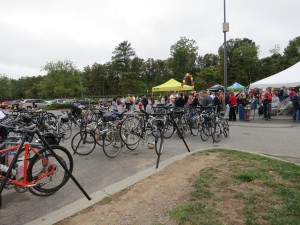 "Once that bridge is opened, nobody is going to think it opened late," he said. "They're going to say, 'Hey, it's here, it's open, we're enjoying it,' and that's what this is all about."
For more information and project updates about the ATT Pedestrian Bridge, click here.