The following individuals are running for the 2018 Oaks and Spokes Board of Directors.  Please take some time to review the following candidate statements prior to voting at the Annual Membership Party.
Molly McKinley (Advocacy Coordinator)
Tell us about yourself!
I moved to Raleigh in 2010 for school and I've been biking and running my way around town ever since! I am a grassroots organizer for an environmental organization and I am currently serving as the Oaks and Spokes advocacy coordinator. When I'm not riding bikes or talking about them you can find me on the trails at Umstead, baking, or geeking about local politics.
What are three ways that you would contribute to the Board of Directors?
If elected to a second term as advocacy coordinator I look forward to continuing to build the membership and community presence of the advocacy committee. In addition to expanding the work of the advocacy committee, I will also use my volunteer engagement experience to bring a more meaningful experience to folks who want to be involved with our organization. Lastly, I will continue to cultivate relationships, with businesses, elected officials, City of Raleigh representatives, and other community leaders to further the work of Oaks and Spokes.
Where do you see Oaks & Spokes in two years?
It's been an incredible ride over the past two years that I've been involved with Oaks and Spokes – especially in 2017. If the organization continues to grow and mature like it did this past year, thanks to outstanding leadership and lots of hard work from lots of good people, I really think the possibilities are endless for Oaks and Spokes.
Is there anything else we should know about you?
I've been bike commuting for the past two years and I love attending local government meetings more than most other humans.
---
Mike Scott  (Financial Coordinator)
Tell us about yourself!
My wife and I moved to Raleigh in September 2016 to resume working with PwC US after working for PwC Italy in Milan Italy for 2 years. Living along the Crabtreek trail in the North Hills has been great for not only myself to use the trail for biking and running but also to get a feel for how lucky we are as cyclists in Raleigh to have the infrastructure we do have but also to see how things could be improved.
What are three ways that you would contribute to the Board of Directors?
After this last year, I think my primary contribution to the Board is, with my experience as a CPA and Senior Manager with PwC, guiding the group through various compliance issues as a 501c3 organization. If I were to win this term, I think we could do alot with the financial data we have, to better understand which events do the best to further the cause so we can focus on those efforts. I also have enjoyed helping out with events and getting a better understanding of the political environment in Raleigh.
Where do you see Oaks & Spokes in two years?
After previously living in Pittsburgh and being a member of BikePGH, I think Raleigh is a few years behind Pittsburgh, which is not a city particularly conducive to biking. I see the O&S membership continue to expand, the partnered events continue to grow, and the organization becoming an advisor / trusted partner to the city when planning for future growth.
Is there anything else we should know about you?
I really like biking, but I am also an avid runner. This past year I completed the Baltimore marathon and I try to do one every year.
---
Dawn Keyser (Marketing and Outreach Coordinator)
Tell us about yourself!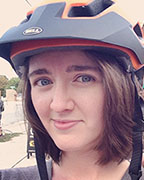 I moved to Raleigh from Moore County in 2005 to attend NC State, and liked it so much that I stayed after graduating. Not much of note happened in my life until I discovered the Raleigh biking community in 2012. Through weekly social rides and special events, I made an amazing group of friends and was eventually inspired to become more directly involved in the community with Oaks & Spokes. I joined the (then unofficial) interim board of directors and was part of the process of attaining our 501c3. The rest is history! I currently serve as the Marketing & Outreach Coordinator, primarily focusing on event planning, fostering partnerships with outside groups, and managing social media. I strive to live a life that is meaningful, and find purpose and fulfillment in being involved with my community and causes that are important to me.
What are three ways that you would contribute to the Board of Directors?
I want people to think of us when they have any bike-related concerns or interests in the Raleigh area! Building our brand and our presence both in the community and online is of great importance to me. Learning about Oaks & Spokes and deciding to get involved was a life-changing moment for me, and I'd like to make that happen for others as well!
Where do you see Oaks & Spokes in two years?
I see our membership expanding and a better system for engaging and maintaining volunteers. My goal is to create a marketing packet and increase our visibility in the community through events. I'd like to initiate an annual/biannual free Rider Workshop where adults can learn to ride, or if they already know how to become more comfortable on the road, in a group, and alone.
Is there anything else we should know about you?
I work part time at Boulted Bread as a baker's assistant, and it's like a second family. You'll never find a nicer, more hard-working group of people! I'm also very passionate about environmental issues, and one of my favorite past-times is picking up trash. In 2017 I combined my love of litter clean-ups with my love of bikes and initiated our adoption of Mile 8-9 of the Walnut Creek Greenway. I also love yoga, cats, running, and just generally being active!
---
Cody Stokes  (At Large Coordinator)  
Tell us about yourself!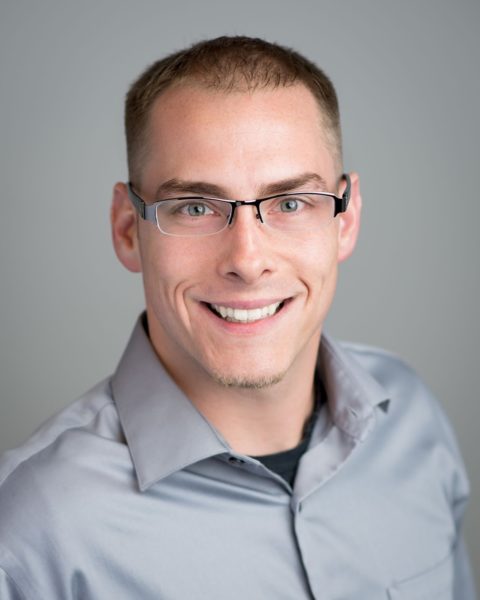 I'm a Raleigh transplant, lover of bikes, sustainability, and a supporting my community. I enjoy social rides and building new connections and friendships through biking. When I'm not working my job as a senior support engineer I engage in fulfilling activities  such as working out, traveling, spending time with friends and dedicating time to impactful organizations like Oaks and Spokes. I've been a member of Oaks and Spokes for a year where I primarily serve as a lead on our West St Cycletrack project. I also help promote, table and photograph events, connect O&S and leads for new potential partnerships, and manage our technology such as web and email platforms.
What are three ways that you would contribute to the Board of Directors?
Thanks to my job in managed cloud services, I have a strong understanding into how we can leverage technology (G Suite, MailChimp WordPress, etc) to improve the efficiency of O&S as well as be the point person for technology questions and issues. I will consolidate and simplify the management of IT assets for O&S in a way that makes it easy for anyone on the board to use and understand.

My social nature positions me to connect with diverse members of our community. This has helped O&S create partnerships with REI and RDU Forest to name a couple. I intend to continue looking for opportunities where O&S can connect with local members in ways that will benefit our organization and community.

I will continue to use my technical experience to help transform our current website into something shiny and new, consolidate IT assets and provide transparency into these assets so anyone can find what they need.
Where do you see Oaks & Spokes in two years?
Through O&S exceptional member base and leadership I expect to see the organization grow from less than a 10 member board to around 15 members. These additional resources will position O&S to do more and bigger within our community. An example of more and bigger could be working with COR to develop a program that supports LQC (lighter, quicker, cheaper) projects around the city. I am already engaging members of Sustain Charlotte to learn how they built their framework with their city so we can apply this knowledge into our approach with the City of Raleigh.
Is there anything else we should know about you?         
I love cooking for people. There's something about the joy I see when people enjoy my food that makes me feel all warm and fuzzy inside. I truly believe food and music are primary components that foster and bind love. And of course bikes too! 🙂
---
Glenn Schell (At Large Coordinator)
Tell us about yourself!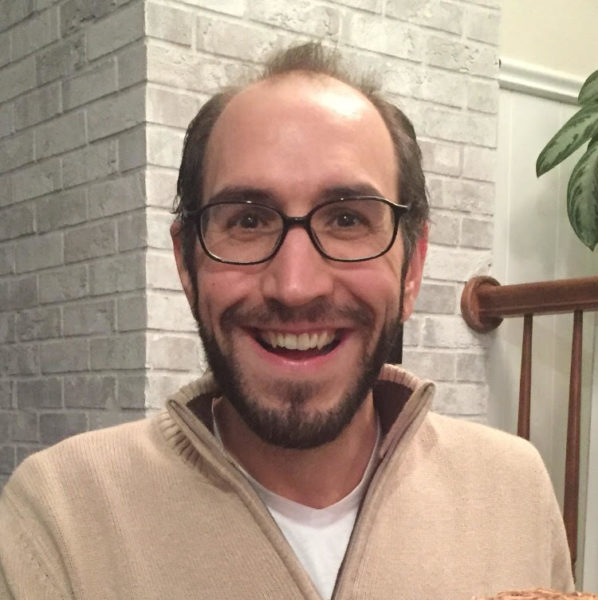 I recently graduated from William Peace University and hope to become an elementary teacher in the coming months.  I am eager to be a bigger part of my community and I feel that I have a valuable skill set in order to promote bicycle safety, interest, and motivation to inspire the citizens of Raleigh to learn more about the benefits of bicycling in their city.  
What are three ways that you would contribute to the Board of Directors?
I am very boisterous and can speak to strangers, entrepreneurs, and politicians easily.   believe that my over all personality is one of engagement.  I love sharing my passion of bikes with others and I want to see more and more bike friendly infrastructure to help our city grow into a little Amsterdam.  
Where do you see Oaks & Spokes in two years?
I see myself in a elementary school teaching and engaging all students to not be afraid to make mistakes. I also hope to have some sort of writing career as a journalist or blogger.
Is there anything else we should know about you?
My passion for bikes stems directly from the fact that in 2013 I weighed 400 pounds.  I was able to bicycle all of that weight off of me and I continue to be an advocate for the healthy benefits of biking up that hill on the greenway to the museum.
Notes on the positions being filled:
Advocacy Coordinator.  Shall be responsible for organizing the engagement of the board and membership around priority issues, and for building relationships and developing partnerships with other organizations.
Finance Coordinator: Responsible for receiving all monies and issuing all payments of the Corporation, keeping an accurate record of the Corporation's finances, preparation of financial reports and budgets and must exhibit the books and accounts to any Board Member, or board's appointed designee at any reasonable time.  They shall also serve as Treasurer of the Corporation and shall file appropriate tax return for the organization or coordinate with outside party for annual submittal to IRS.  This officer may alternatively be referred to as Treasurer.
Marketing and Outreach Coordinator:  Maintains branding standards for all external communications. Responsible for editing and publishing the monthly newsletter as well as public facing accounts and social media presence.
At-large: Is actively involved in one or more of the committees; represents and promotes the organization; and commits time and resources to advancing the mission of the organization.