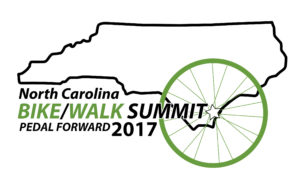 Interested in learning about how communities across North Carolina are working to create complete streets for all? Attend the North Carolina Bike Summit in Wilmington on November 3rd and 4th and let Oaks & Spokes help you with the registration fee!
Apply here by next Monday, August 28th to be considered for a scholarship which will cover the cost of registration to the Bike Summit! After their return, award winners will be asked to write a short essay describing their experience at the Bike Summit and how they intend to utilize the knowledge they gained.
This year's summit is presented by BikeWalk NC in Partnership with AARP and Cape Fear Cyclists.  The partnership aligns perfectly with AARP's Age Friendly Community Initiative and their transportation and walkability goals. By creating complete streets in as many areas as possible, there will be more individuals and families who will be able to walk, move, and travel in healthier and safer ways.
Keynote speakers Michael Olender, Coralette Hannon, and Mike Watson will focus on Complete Streets and Livability as we work together to "Complete our Streets…for All!"
The 2017 NC Bike/Walk Summit promises to be packed full of information useful to bicycle advocates, transportation planners, business owners, elected officials, tactical urbanists, public health practitioners, and livability and sustainability professionals. The mission of the summit is to:
 Foster collaboration
Educate and inform
Promote bicycling and walking as valid modes of transportation and as an economic driver
For more information on this year's summit, including the presentation schedule, visit BikeWalkNC.