This week, Raleigh submitted an application for the Green Lane Project 2.0.  Launched in 2012, the project has worked with six U.S. cities to build what is expected to be over 200 miles of protected bike lanes by early 2014.   In the next phase, the project coordinated by PeopleForBikes, will work with six new cities on building protected bike lanes. Recognizing the need for good examples of bike infrastructure in order to create a backbone bicycling network in Raleigh, Oaks and Spokes was eager to write a letter of support for the project.  Will we get protected bike lanes in 2014?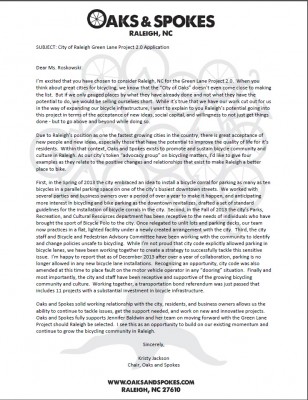 Protected bike lanes are on-street lanes separated from traffic by curbs, planters, parked cars or posts.  They create spaces for bicycling that are not oriented toward the "strong and fearless" rider, but for those who are more interested in casually going about their day, using a bicycle to get there.  I'm sure you can think of a few places where you'd like to see this type of facility so you could safely ride from your house to downtown, to do some shopping, or to feel comfortable during commute hours on your ride to work or school.
With more than 100 letters of intent submitted from cities across the country and little in the way of a bicycling network to upgrade, we honestly didn't think our chances were very good.  What would make Raleigh stand out to anyone reviewing submissions from 100 cities eager for bike infrastructure? Looking over the application we found some shining beacons of hope.  One of those is that we certainly have an engaged cycling community. You are reading this after all, aren't you?  You might have come out to city council or a public meeting and, although you may not have felt like you made a big impact, your presence mattered.  Another item on the application is a large community-supported event.  With Oaks and Spokes Bicycling Festival at 10-days and 13 events in its second year, we've got that covered too.  Also, the cities are intended to be geographically diverse, with a range of city sizes and urban forms.  They will likely be spending some time looking at applications that will spread out their geographic coverage of protected bike lanes which will include areas in the Southeast and Northeast.   Memphis, TN and Washington DC were in the last round of cities, but there hasn't been a project that I would place in "the Southeast."  PeopleForBikes intends to include cities at various stages of developing bike networks — and I'd say that although Raleigh has a decent greenway system for recreation, we're more at the beginning of this process in terms of developing a network.  Our urban form is what we might dub "sprawl with promise" since the downtown core and areas within the beltline are relatively compact.  We're working hard on walkability, bikeability and hopefully someday transit will be on that list with some help from Mayor McFarlane's leadership.  From my perspective, we needed to come at this from the angle of the underdog with good examples of how advocates and citizens are working together in Raleigh on positive changes.  Right now.  We gave four examples in our letter of support.
We'll be scored on how well Raleigh's application demonstrated:
Ambitious plans to implement at least one (ideally several) high-profile protected bike lane projects and related street improvements in 2014-2015.These lanes should be part of a strategy to create an interconnected network of low-stress biking.
Evidence of strong political will from elected officials.
Supportive and engaged city transportation staff and leadership.
Evidence of strong community support.
Evidence of support from the business community.
And be scored on these additional factors:
Recent successes that demonstrate momentum.
Recent changes in leadership, vision or funding that may prove catalytic.
Clear articulation of why being part of the Green Lane Project will help.
Possibility of leveraging local foundations for support of local projects.
PeopleForBikes will chose the winners in March of 2014.  If we are able to nose ahead of the competition and succeed with our application, we'll have to get cracking immediately.  The one big question that will be asked:  Where would you like to see protected bike lanes in Raleigh?  Let's get started!  Leave a comment in the notes below.