This September Raleigh was blessed with an inspiring visitor from the Other Carolina. Eric Morton hails from Charleston, SC and found himself in Raleigh during a bit of a bicycle anomaly: Hopscotch + Bike First Friday. Just three weeks into a year-long, cross-country bicycle tour, Eric rolled into downtown hoping to scope out a good meeting spot by seeking parked bicycles. The problem was: everything was covered in bicycles.
Cyclists tend to gravitate together, so it wasn't long before Eric found some members of Raleigh Bike Polo scoping out the Hopscotch happenings. There was soon a  critical mass of bike-love at the City Plaza stage. Many stories were shared and folks were very interested in Eric's journey and plan.  Click ahead to hear about Eric's cross-country trek and some insights on what it means to be a bicycle co-op.
As anyone who has toured on bike before knows, hot showers and beds are luxuries you do not pass up. We offered our guest room to Eric for two days while he explored Raleigh. I'm sure glad we did. We talked too long about the bike culture in Charleston, Raleigh, and Madison. I got new and interesting insights into how campuses can affect the growth of culture and perception in a city, and learned about valuable legal assistance available through some passionate advocates.
Eric was (and is) a key component in Charleston's bike co-op. Their co-op was started with the familiar goal of increasing ridership through education and access to cheap-as-free bicycles. While the brick-and-mortar location for their co-op is no more, Eric says that the Charleston co-op isn't dead: it's still very much active. For Eric, a co-op is more than just a place to repair and build bicycles; it's a community. The members of the co-op still volunteer at bicycle events through the city, are advocates for infrastructure and education, and are a constant presence in Charleston. At heart, a bike co-op is people.
I found my time with Eric inspirational and I hope to harness with to grow our fledging Oaks and Spokes community. Eric believed we were building a bike co-op. While we have no current plans for a physical location to repair bikes, we do plan on being active members of Raleigh cycling community. This means the spring Oaks and Spokes Bicycle Festival, pushing for bicycle infrastructure, supporting causes like Raleigh Bike Polo, and being ambassadors for new Raleigh riders. Raleigh's rapid growth and the burgeoning bike culture following it are amazing and we want to connects all the dots.
Eric is planning on crossing the country over the next year, heading first to New York, then back to his home in South Carolina before trekking west along the southern states. He is riding solo and despite being very fit, will face the unique challenges of long-distance touring. We spent a night watching Ride the Divide for some fun inspiration before he left to cross into Virginia. It's sobering insight that the biggest challenge to solo tourers can be your head.
Eric plans to seek out the cycling community in every city he visits and collect these experiences to fill a book that he hopes to write after the trip. He is self-supported, both on the bike and financially.
Follow Eric on facebook or on instagram. Even better, you should consider supporting him in his adventure. He's a great guy with big ideas.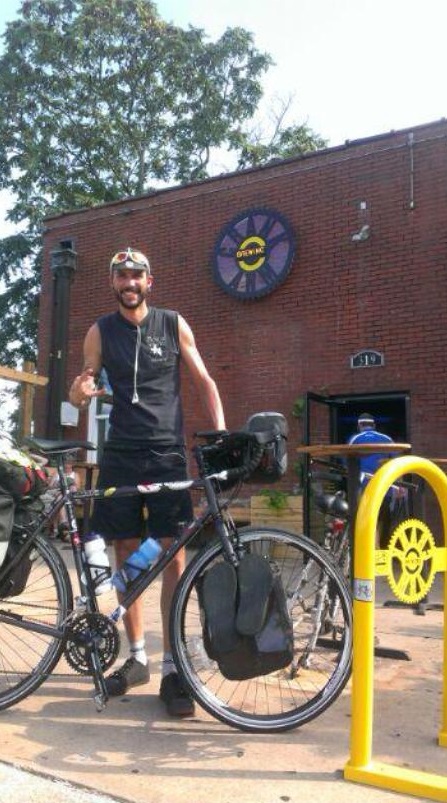 If you are interested in hosting bicycle tourers (a sure way to hear AMAZING tales) visit Warm Showers and sign up!