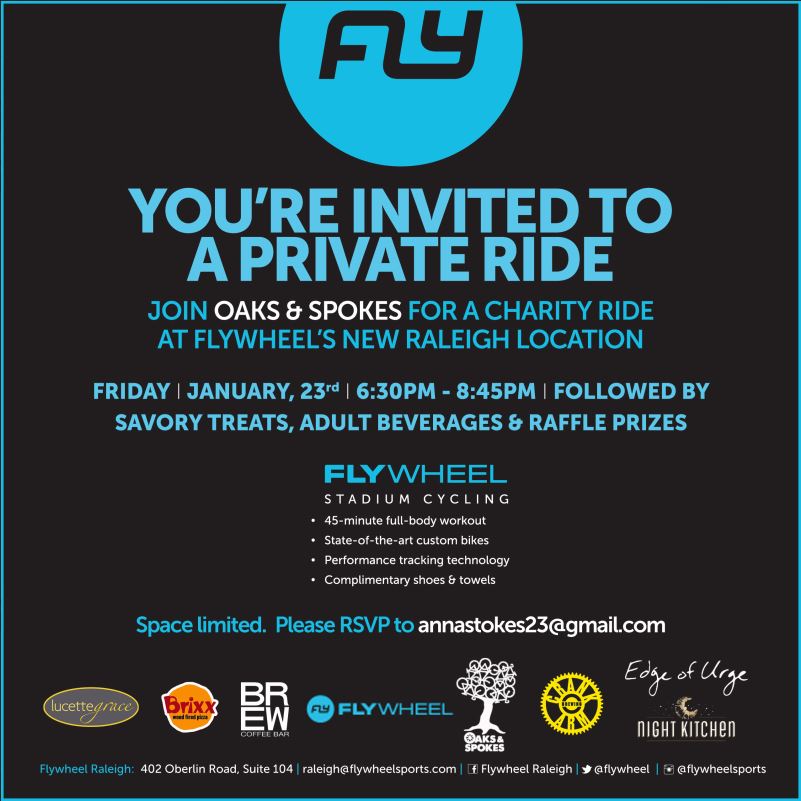 It is frigid outside. Take a break from the icy breeze of you bike commute and come Warm Your Buns with Oaks & Spokes at an indoor Happy Hour Ride benefiting our 2015 Spring Festival. The ride will take place at FlyWheel, Raleigh's newest indoor cycling location. FlyWheel's classes are incredibly fun featuring custom playlists, and allowing each individual to challenge themselves at whatever level they choose.
Date/Time:
Friday, January 23rd
6:30 – 8:30pm (ride begins promptly at 7pm!)
Location:
Fly Wheel Sports
402 Oberlin Road, Suite 104
Raleigh, NC 27605
Please join us at 6:30pm to check in, get ready, buy raffle tickets and socialize. The ride will start promptly at 7pm, and will be followed by a Happy Hour with snacks and drinks provided by local sponsors.
Attendees must register in advance, here is how:
Bikes are limited, so remember to buy your ticket in advance! Reserve them by:
1. Creating an Account at Flywheel at www.flywheelsports.com (remember your username as you will need it to provide it in step 2)
2. Filling out the following google form: http://goo.gl/forms/4E2JbhKyMN
3. Donating what you would like, and are able to, at or above $20 via paypal to: info@oaksandspokes.com
All proceeds will go directly towards the Oaks & Spokes' Third Annual Bicycling Festival to be hosted in Downtown Raleigh, Spring of 2015.
Thank you to our generous sponsors for supporting cycling in Raleigh!

Crank Arm Brewing Company, Lucettegrace, BREW, Brixx Pizza – Cameron Village, Edge of Urge, Night Kitchen Bakehouse & Cafe & of course FlyWheel Sports Raleigh