This past weekend a customer at Oak City Cycling Project informed me that the Walnut Creek Greenway connection to the Neuse River Trail had recently opened. Today I had the perfect window of time to ride a new exploratory route before the freezing rain arrived. I was amped to get out and spin my legs for a couple hours rambling through new territory. Here's my machine: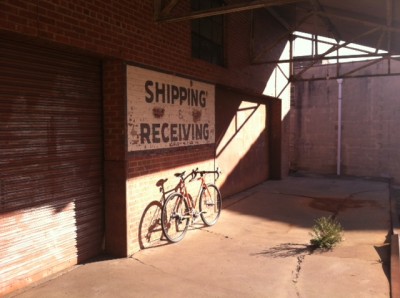 Cycling the Walnut Creek Trail from Mordecai to the Neuse River and back is about 23 miles. This section provides an awesome greenway link connecting Umstead State Park, the
North
Carolina Museum of Art
, NCSU, Downtown and Southeast Raleigh to the Neuse River Greenway.
Just south of Chavis Park in Downtown, Little Rock Trail intersects with the Walnut CreekGreenway. The ramp from the road to the greenway is new. Before you had to hop the curb.This is looking north back towards downtown. The green painted arrows pointed the way to the new greenway section.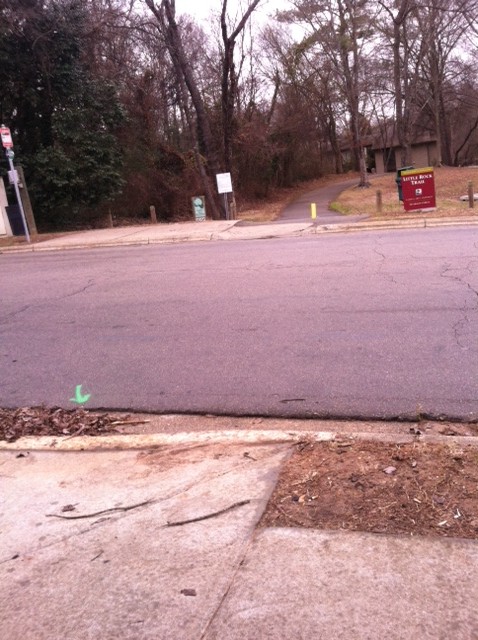 Greenway. This is an LEED certified building designed by Frank Harmon. It boasts the longest
back porch in the Southeastern United States. Seriously. Go by there and sit on a rocker and
enjoy yourself. It's a gorgeous City of Raleigh facility designed to protect the nearby
watershed.
The paved trail rambles east along Walnut Creek, through Apollo Heights, Worthdale Park
and the Walnut Creek Softball Complex.
There's an impressive wooden bridge to traverse.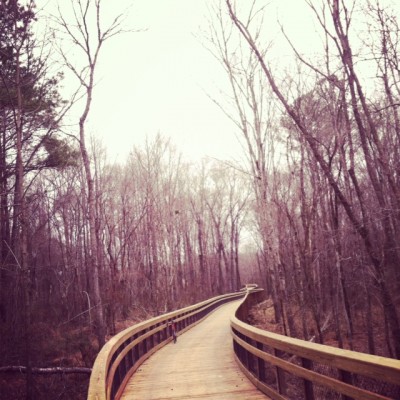 After crossing under the I-440 via greenway tunnel, the path becomes gravel! It was fresh
and really fun to rip through on a cyclocross bike.
I recommend at least a 28mm wide tires for this section and and
Ass Saver
 to keep your butt clean if conditions are wet. This segment will be paved in a few years once the City completes some sewer work. For now, those folks who love gravel can eat their hearts out; it's a great time!  Along this section of trail I skirted the Walnut Creek Amphitheater and crossed New Hope and Barwell roads ending at the Neuse River Greenway. You can tell how long this area has been untouched. Take a look at this 7-up bottle along side of the trail. That's gotta be as old as me!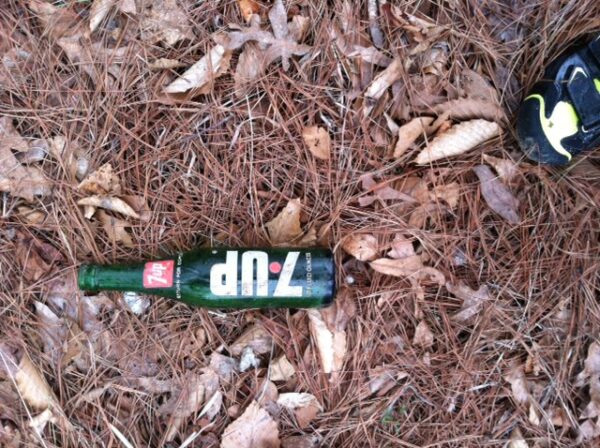 The Walnut Creek Greenway is an awesome jaunt out of the city where you won't encounter
many automobiles and you will encounter complete silence at times. I saw a hawk swoop
down from a tree and a fox ran across my path. Yes, a real fox. I even tweeted about it
and Raleigh Parks and Rec had a fun response:
There's a fantastic junkyard of forgotten buses and automobiles near the trail as well. Some
sweet nooks to discover.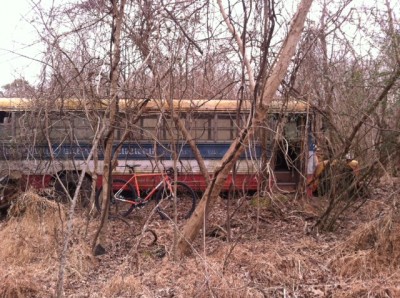 Crabtree Creek greenway as well. The new segment will connect  greenway north of
Downtown with the Neuse River Trail.  Soon you'll be able to make a huge loop from
downtown enjoying miles of protected greenway and beautiful creeks and river. Take a
couple hours to explore this  greenway and it's big sister the Neuse River Greenway trail; you
won't regret it.