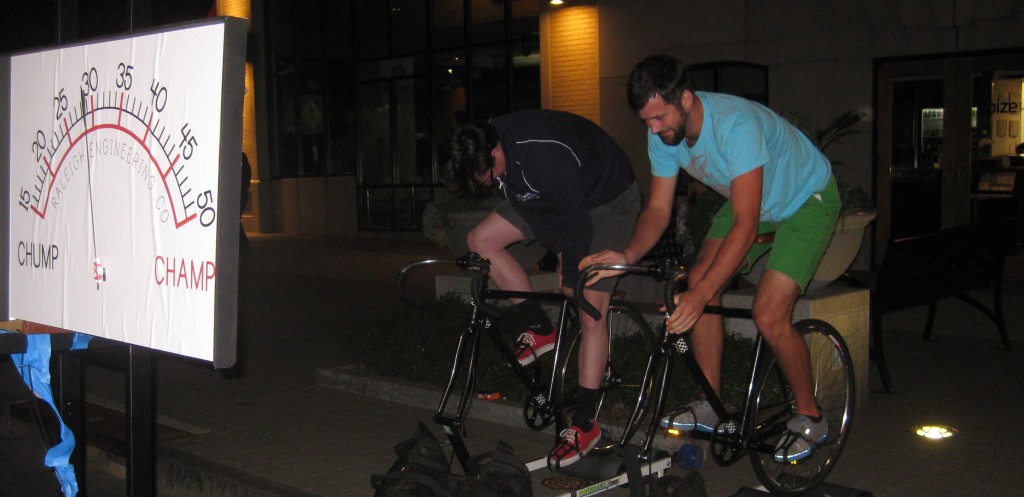 Gear up for game night!  Velolympiad will be held Friday March 8 on Hargett St. in front of Raleigh Times Bar.
The Velolympiad is a series of fun bicycle challenge events set up in an Olympic tournament style.  Teams of 3 people will compete in the events below to determine the 2013 Velolympiad Champion! One team member will compete in each event, with the entire team participating in Trivia. Bikes and equipment will be provided for all activities, so participants need not bring anything! Cost for the event in $5 per team (which also earns you 3 prize raffle tickets! pretty sweet deal)
Event 1: Tricycle Pursuit (Cops and Criminals themed tricycle chase)
Event 2: Messenger Race (timed race on kids bikes, carrying silly objects)
Event 3: Gold Sprints (stationary bike sprints – fastest of the night wins a special prize!)
Event 4: Bike Trivia! All team members participate!
Event starts at 8PM.  Bikers, non-bikers, and bikeless are all welcome! Be sure to cheer on the riders participating in Crank for a Cause while your there!
Contact
Alan Wiggs
Alanwiggs@gmail.com