Let's face it.  Club rides can be a bit of a turn-off for a lot of folks but Raleigh now has a growing number of alternatives.  It's becoming ever-more popular to roll Raleigh's city streets with a large group of folks and cruise through historic neighborhoods, city parks, and commercial nodes stopping at a destination or two along the way.  The atmosphere of these rides is markedly different and that's what is appealing.  The pace is slower, there's more to look at, and much more chatting.  Not surprisingly, there is always an opportunity to grab a beer and keep socializing post ride.  Let the weekend warriors troll the suburban and rural back roads of the Triangle in a lycra-induced daze and join in on one of these weekly rambles:!

[This post is an update from September 2013]
Monday: Tasty Beverage Weekly Group Ride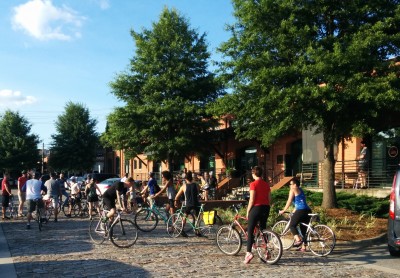 As the folks at Tasty say, "Come ride you bike and be awesome!"  I haven't yet  been on this ride  but it appears just about as fun as the rest.  If you're not about having fun, this is probably not the ride for you.  The "Tasty Ride" rings in at somewhere between 8 and 10 miles, with three routes that hit neighborhoods, greenways, or low traffic areas like Centennial Campus and Dorothea Dix. New Belgium has partnered to provide giveaways, snacks, and special New Belgium beers before and after rides. Also, the tap beers rotate regularly and are typically delicious here.
Tuesday: Benelux Cafe Social Ride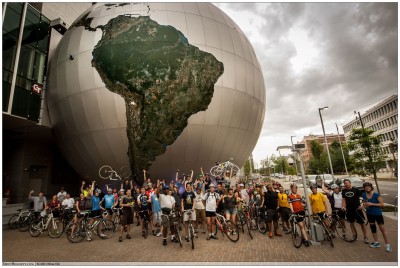 This weekly original been a standing event for a few years now and has become somewhat of a downtown Raleigh institution.  Larger groups of fifty or more can appear in the summer months but the ride is sustained through enthusiasm all winter long.   If it's warm, the group will likely go out rain or shine.  The ride currently rotates between three routes of 10-12 miles all within Raleigh's belt: Centennial, Lions Park, and Churchills.  Expect a diverse mix of riders and skill levels.  If you want some experience riding in larger groups without the speed of traditional club rides, Benelux is a great way to get more confidence.  There are always pumps and a limited amount of tools available for public use.
Wednesday: Crank Arm FUN Ride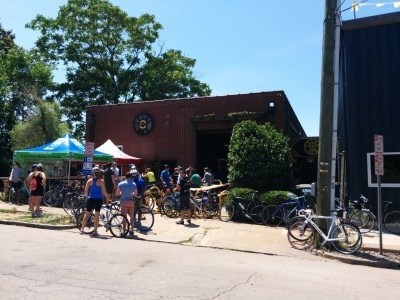 This ride is a social jaunt around the city, hence the "cruising" in the name.  If the Benelux Ride has gotten too serious for you, there's an ample amount of opportunity to socialize on this ride.  There is often a "guest mechanic" who works on Wednesday nights that is eager to help with minor bike issues.  The brewery keeps an extensive set of  bike tools behind the counter and also offers a truing stand for public use.  Also, the ride departs from a Brewery for those seeking a rewarding pint afterward.  This ride usually comes in around 10 miles.  Keep your eye out for special events from these folks!
Third Thursday: Summertime Cruiser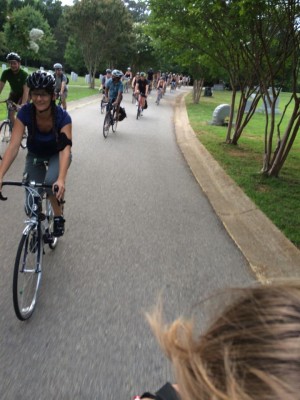 This ride is for those seeking a very casual crowd.  The pace is that which the title implies: a cruise.  The roving cyclists have been known to stop for a quick frisbee toss, to see a Volkswagen junkyard, grab some ice cream, or meander up to Dix Hill to take in the Raleigh skyline.   If you're looking for some heart pumping, you may not find it here.   This ride usually comes in under 10 miles and explores parks, graveyards, alley ways and parking decks and ends at the Person Street Bar around sunset.  This ride is a fantastic way to get more comfortable biking in the city due to the leisurely pace.
Saturday: Crank Arm Weekly Fun Ride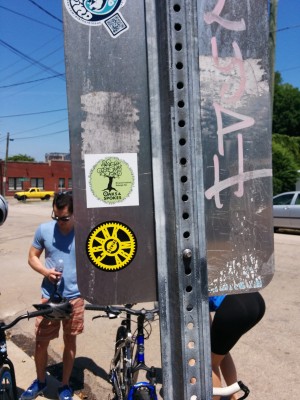 On Saturday, you can choose your own adventure.  A leisurely group goes for a 10 mile ride. A portion of the ride typically goes through the city's greenways which means that if you attend, you should be cautious and respectful of people on the path since Saturdays can be busy for recreating. Guest mechanic services are offered afterwards.  If it's hard for you to find time after work or if you prefer the daylight hours, this ride might be for you.