When you attend your first Oaks and Spokes Festival event, be sure to pick up a spoke card!  Bring it with you to festival events for a chance to win prizes at the Finale on Sunday April 13th.  Want to know more?  Read on!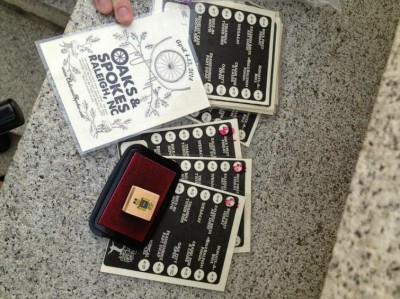 Each time you attend an event, get your card stamped!  Why?  Find your way to Franklin Street and show us your spoke card at the Finale on Sunday April 13th during Frankenbike.  For each stamp on your spoke card you'll receive a chance to win one of our many great prizes, including a cruiser bike from New Belgium.  We'll begin the giveaway at 2pm but you must be present to win.  Only attended a few events?  That's ok!  You'll still have a chance to win.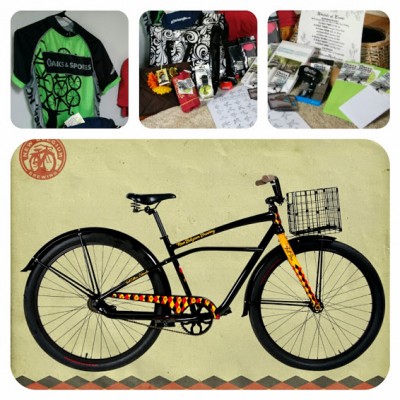 Prizes include a New Belgium cruiser bike, t-shirt and jersey from Oaks and Spokes, gift certificates to Trek Raleigh, a gift certificate for a beard shave at Glenwood Barber Studio, men's and women's haircut gift certificates for Marigold Parlour, a limited edition poster of bicycle Drop Outs from local artist Bryan Paxton, Barbara McCann's new book Completing Our Streets to get you jazzed about reinventing walkable and bikeable neighborhoods, a cute set of panniers from the Netherlands, bike lights, and much more.
Now what do I do with my spoke card?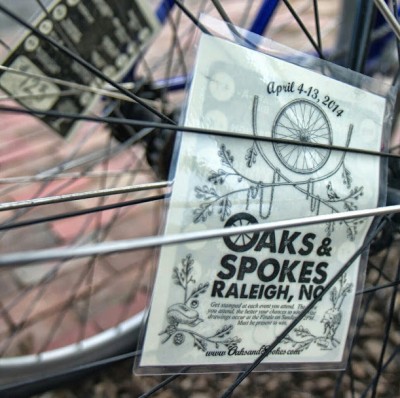 Put it in your spokes!  The spoke card has the full event schedule for your quick reference.