For the second installment of our Bike Share Interview series, Kristy Jackson and Jacob Clayton sat down with Drs. Keith Powell and Stanley Elliott of Shaw University. Dr. Elliott is the Vice President for Student Affairs at Shaw, while Dr. Powell is the Associate Vice President for Student Affairs. Student Affairs at Shaw is concerned with all aspects of student life that take place beyond the walls of the classroom, from housing to campus events to, of course, transportation. Our conversation with Drs. Powell and Elliott addressed everything from Shaw's health and environmental initiatives to the historic university's continuing importance in Raleigh's rapidly changing downtown.
Interview #2: Drs. Keith Powell and Stanley Elliott, Shaw University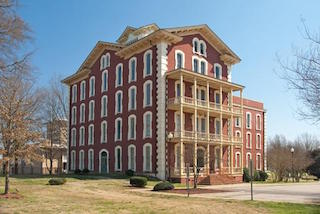 Powell said the Raleigh Bike Share could be a "great fit" for Shaw University, because they "have students coming from all over." For students who aren't from the greater Raleigh area, Powell suggested, the Raleigh Bike Share might be a means for greater exploration of downtown. While we mentioned the Raleigh Bike Share's impact on student mobility in our interview with Kathryn Zeringue at North Carolina State University, Shaw's smaller size and downtown location provide a different set of challenges. There is simply no room for more parking near the campus, and Powell says that most students don't drive. According to officials at Shaw, less than one tenth of the university's roughly 1,500 students have parking passes (1). For students and staff alike, the Raleigh Bike Share could increase mobility and provide an excellent opportunity to learn more about downtown businesses, events, and even professional opportunities.
The proposal for the Raleigh Bike Share also comes at an opportune time for the historically black university, which is kicking off a new preventative health program called "Know Your Vitals." Powell pointed out that five of the most deadly health issues for African-Americans, including hypertension and diabetes, could, in many cases, be prevented by lifestyle changes. Their plan includes an increased focus on daily exercise, which the Raleigh Bike share could facilitate. In fact, a 2012 study in the American Journal of Public Health suggests that moderate increases in daily walking and bicycling could significantly reduce the burden of cardiovascular disease and diabetes(2). The largest barrier to student use, Powell suggested, was a lack of knowledge of bicycle-friendly routes around Raleigh. By pairing with community partners like Oaks and Spokes for guided rides and utilizing route maps provided at stations, that hurdle could be easily overcome.
Along with a tool for building healthy habits, Powell sees the Raleigh Bike Share as a step forward for the health of the planet. With Shaw University's commitment to creating a greener, more eco-friendly campus, alternative transportation solutions like the Raleigh Bike Share are a great fit. Other cities, both nationally and internationally, already boast considerable carbon dioxide savings from their bike share programs. A 2008 report from the Bicycle Coalition of Greater Philadelphia, for example, claims that the number of miles traveled by bicycle saved an annual 47,450 tons of carbon dioxide that would have otherwise been emitted by automobiles(3). Those savings don't even account for environmental savings on parking lot construction and maintenance; a 2010 article in Environmental Research Letters estimated that the environmental impact of all parking spaces adds 10% to the CO2 emissions of the average automobile(4).
As we concluded, our conversation turned to the rapidly changing demographics of south and south-east Raleigh. With rising housing prices causing many long-time residents to move further from downtown, Shaw University's surroundings are changing. Powell said that Shaw would be excited to have a Bike Share station on campus, because it offered a "good opportunity for cross-cultural exchange." Many newer Raleigh residents don't know much about the 150-year-old institution, and Powell sees a Bike Share station as an opportunity to bring people to the campus and raise awareness about Shaw University's contributions to downtown Raleigh.
(1) More precisely, Dr. Powell informed us that there were 380 campus permits, 272 of which belonged to staff. Enrollment at Shaw is generally between 1,400 and 1,700 students each semester; that doesn't include faculty and staff.
(2) Neil Maizlish et al. "Health cobenefits and transportation-related reductions in greenhouse gas emissions in the San Francisco Bay Area." American Journal of Medicine 103, no.4 (2012). 10.2105/AJPH.2012.300939
(3) Bicycle Coalition of Greater Philadelphia. "Double Dutch: Bicycling Jumps in Philadelphia." (2008). http://bicyclecoalition.org/our-campaigns/our-reports/#sthash.sxuSBstq.dpbs
(4) Mikhail Chester, Arpad Horvath, and Samer Madanat. "Parking infrastructure: energy, emissions, and automobile life-cycle environmental accounting." Environmental Research Letters 5, no. 3 (2010). http://dx.doi.org.prox.lib.ncsu.edu/10.1088/1748-9326/5/3/034001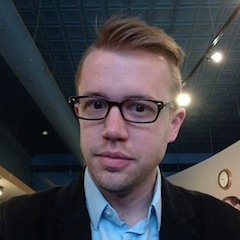 Jacob Clayton is a writer and instructor in the Department of English at North Carolina State University. A long-time member of Raleigh's bicycle community, he's happy to help write this interview series as an Oaks and Spokes volunteer.