Since its beginnings over a year ago, Raleigh Bike Polo has grown. It's grown a lot. The first polo games were born at a downtown parking deck with 5-7 people. Now the weekly practice regularly has 20 or 30 people and the club has over 140 followers online. They host community picnics and attract out of town bicyclists to events both small and large.  Despite their success, founder Michelle Willcox says the group has been searching for a home the "entire time Raleigh Bike Polo has been in existence."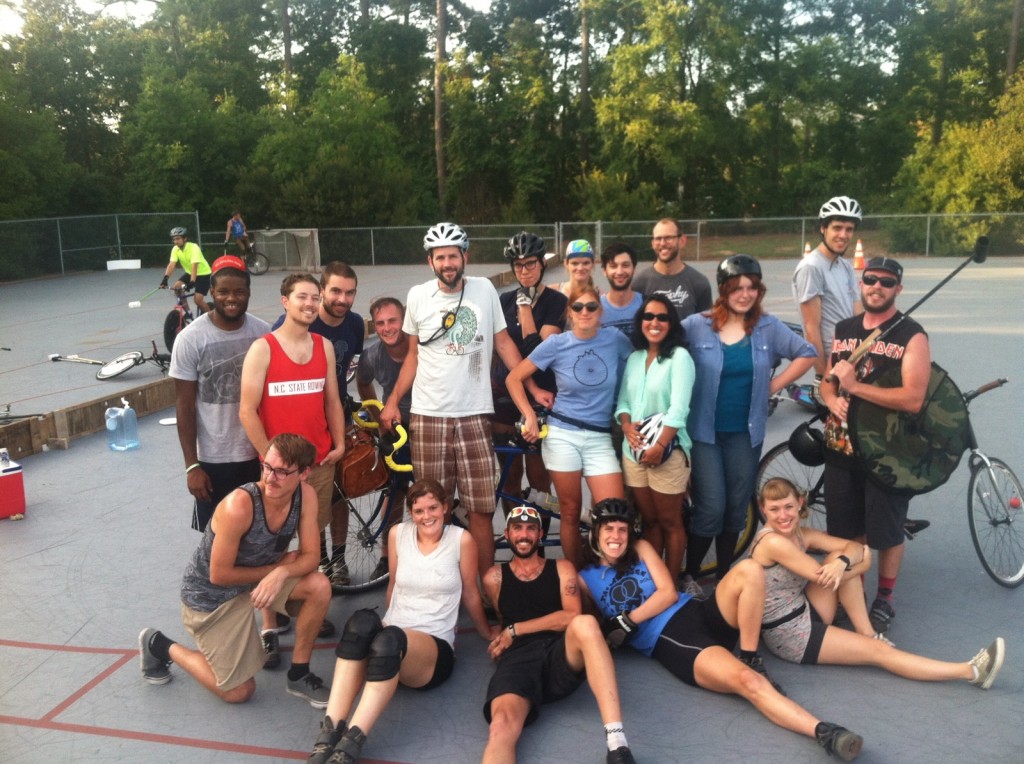 SUPPORT RALEIGH BIKE POLO
Action:
 Attend Raleigh Parks and Recreation Advisory Committee meeting
NOTE THIS ACTION IS NOW CANCELLED DUE TO AN ARRANGEMENT BEING WORKED OUT BETWEEN RALEIGH PARKS AND RECREATION AND RALEIGH BIKE POLO TO USE THE COURTS.  WE'LL KEEP YOU POSTED!
Time:
Ride:
Bring: Your bike helmet to show yourself as a member of Raleigh's burgeoning bicycle community and to show support for Raleigh Bike Polo. 
The early days
About a month after playing in a downtown parking deck, security ambassadors were pushing Raleigh Bike Polo (RBP) out. Games were concurrently happening in a parking lot behind Benelux on Tuesday nights. This City Market practice location was a factor in the club's growth. The Tuesday night social ride provided 50 captive cyclists each week to watch and try out the madness of bike polo. Loaner bikes and mallets were always available for those too scared to scratch their own bikes. It wasn't long before Raleigh Parking Enforcement pushed them out. They tried pursuing options to keep the City Market location but Raleigh Parking Enforcement said it was a liability and RBP moved on.
For awhile, RBP was hitting up a variety of venues.  They moved around from a city park to another parking deck on NCSU campus. This campus location would serve as the regular home for some time as it was frequently deserted and provided shelter from the weather. The club enjoyed months of trouble-free Sunday practices but craved more polo. As the weather became more pleasant, the group started playing during the afternoon and evenings during the week. This led to some run-ins with campus police, who were not comfortable with the group playing bike polo in the parking structure. Eventually the group was forced to abandon the campus parking deck permanently.

Oak City Open
What really pushed Raleigh Bike Polo to move on finding a more permanent home was the Oak City Open.  The invitational tournament would host the biggest crowd yet and RBP wanted a reliable venue. They instituted a serious search and set several desirable criteria to help establish a good place to keep polo going.  It had to be flat and would ideally be covered.   Walls or a fence are needed to keep the ball nearby.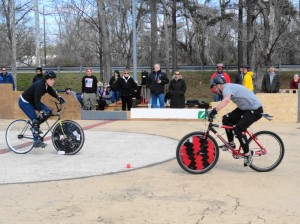 The club identified Marsh Creek park. This large park included a roller hockey rink, seldom used, that met the polo criteria. The city parks folks said that the group could play there. Mission accomplished, or so it seemed. The day before the Oak City Open, they were turned away and had to scramble to find a place for the next day.  The city was not comfortable having a tournament at the park.
A mad scramble led Michelle to Raleigh Center Ice, a defunct hockey center near Atlantic Avenue. Raleigh Center Ice agreed to host the open for the day of the Open but it wasn't to be a permanent home. The area where the tournament was held required walls to be set up and this would be too difficult for every practice.
Marsh Creek
Now, RBP practices out at Marsh Creek Park in the roller hockey rink.  The concrete is relatively smooth and has a good surface for bike polo.  The rink requires some setup; the standard polo court is about one third the size of the hockey rink. In order to make this happen, they need to transport the plywood walls each and every time they play.  Several hundred pounds of infrastructure, a load of bicycles, and all the associated equipment is dragged out and set up every Sunday. RBP has worked out an agreement with the park to store the wall components there – but it's not covered from the elements.  Eventually they may have a shed.
As summer wanes, the polo club is struggling with another issue: the rink at Marsh Creek doesn't have any lights. The group would like to play during the evening on week nights in addition to the standing Sunday practice but the distant location and setup that needs to occur at Marsh Creek doesn't allow enough play time.
Drama at the courts
Marsh Creek is a large park, boasting picnic shelters and a skate park in addition to the hockey rink. The Junior Roller Derby League plays on the rink on Sundays as well.  After the discussion between the city and RBP during the Oak City Open, the city realized there is a demand for the hockey space. You can now pay to reserve the court. When RBP showed up to play and enountered the roller derby girls, they were happy to wait until the derby practice was over or possibly share the court. Remember, the polo court is one third of the entire space. There was some misunderstanding and the derby league resorted to social media to voice their discontent. A civil conversation between polo organizers and the league quickly defused the situation. The two groups now practice at different times, although there still remain issues with scheduling.
A real home
RBP is still seeking out a permanent space that is closer to home.  They originated downtown and want to come back from the outskirts, especially for those players who want to bike to the courts. It's a little ironic to have to drive your bike to play polo.  Tennis courts at Tarboro Road Park were identified that would meet some of the criteria that Marsh Creek does not.  These courts were singled out over a lot of others in the downtown area because they don't get a lot of use.  The courts are smaller and would suit the size requirements better.  At tennis courts that have a natural perimeter, bike polo would not have to set up as much equipment before every practice because the courts are fenced in and the net serves as a backstop.  This eliminates some of the walls that are needed – they could get away with a lot less infrastructure. That means less in the way of storage and transport.  Bike polo doesn't have a season – they play all year.   The courts at Tarboro have overhead lights which could be turned on at night which would be a benefit for games that run later as the days grow shorter.
If you've roamed around Idlewild and Heck St after dark, you know that activities there can appear questionable.  "That's about where Oakwood transitions into Oakhood," said a former resident of Heck Street.   RBP stands to bring a positive presence to the area .  When polo was closer to downtown they played even more often than they do now.  "We'd like to get back to playing 2-3 times a week.  We could do that if we were closer," says Michelle.  As an added benefit, having an active presence in the evening and "more eyes on the street" is arguably one of the best things that could happen in regards to neighborhood safety around the Tarboro courts.
RBP hasn't started playing at the Tarboro courts because they don't want to ask for forgiveness before they ask for permission.  They don't want to get kicked out or disrespect the city by playing on a court that they don't have permission to use.  The city has told them that they cannot use tennis courts due to a concern that the surface may be damaged by bicycle polo.  As the Tarboro courts are already in poor condition, RBP is willing to work with the city to improve and maintain the surface. Recently RBP reached out to the North Central Citizens Advisory Council (covers much of Mordecai to East Raleigh) to get support from the neighbors.   They are then going to ask for permission in an organized and thoughtful approach, at the next Parks, Recreation, and Greenway Advisory Board meeting.
How can you help?
Oaks and Spokes will be assisting Raleigh Bike Polo with creating a formal presentation to the Parks and Recreation Advisory Council to ask for permission to use the Tarboro Road tennis courts to play bike polo.  Neighbors, fans, and members of the bicycling community are encouraged to attend the meeting and show your support. Bring your bicycle helmet as a symbol of support for this particular issue as there are likely to be other agenda items that evening.  See event details at the top of this post.
Learn more about Raleigh Bike Polo at: www.raleighbikepolo.com or contact raleighbikepolo@gmail.com