Around Thanksgiving of 2015, it seemed as if a tiny miracle had happened overnight.  To those that weren't in the know, a series of bicycle lanes and green paint magically appeared in different areas and key corridors across Raleigh.  Of course it wasn't magic and it wasn't a miracle, as city staff and consultants had been working for months on using up some federal Congestion Mitigation and Air Quality (CMAQ) funds that would expire and had chosen bicycle marking projects as their way of spending those funds.  Oaks and Spokes would like to thank the City and especially the directive of key staff for choosing to take on a daunting task with a tight timeline and heavy learning curve.  As for the green paint and buffered bike lanes, it wasn't something residents would immediately be used to seeing.  That makes sense.  But for many of us who choose bicycling as a primary or close to primary mode of transportation, these projects were a demonstration of progress and commitment to bicycling as a legitimate mode of transportation.  THANK YOU.
We'd like to say a few things about the projects.  Some things we absolutely love and then give constructive feedback on areas where there could be improvement.  I think it's important for everyone who has "feelings" about the facilities to let things simmer for a bit, try them out, and get used to the new paint.  Oaks and Spokes members and affiliates have had the opportunity to get comfortable with some of the new markings from the bicyclist perspective and pedal around a bit.  We'd also love to hear your comments so please submit them below!
Road Diet Projects, WIN!
Tarboro Road was converted from 4 lanes to 3 lanes with a center turn lane and bicycle lanes on both sides.  This is a really typical safety improvement.  North Carolinian's (including Oaks and Spokes!) recently prevailed over the NC Legislature that tried to restrict this type of improvement in certain circumstances.  I personally ride this facility every single day and the difference between taking the full lane and having anxiety being in traffic and having my own space is striking – I'm much more at ease. The worst part of my commute to work has changed dramatically.  The walking environment on Tarboro Road to the DMV or to pick up some calories at the Cook Out is much improved, as well – with the added buffer and reduced speed.
Green Paint, WIN!
Salisbury Street, Wilmington Street, and Hillsborough Street now have green paint at intersections to increase visibility and indicate potential conflict areas between bicyclists and motor vehicles in areas where collisions would be most likely to occur between bicycle lane transitions.  We'd like to see the green paint applications move out of the Pilot Phase and see wider applications of this safety improvement throughout the city.  This also has us wondering, when will we see our first bicycle box?  And when will the  bicycle symbol get a pony tail?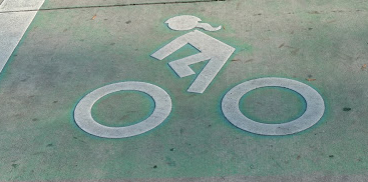 Downtown Connections, WIN!
We are really pumped about the new bicycle lanes on Salisbury Street and Wilmington Street that link Downtown Raleigh to points south and destinations to the north.  There has been a lot of positive feedback regarding these connections and are excited to finally have connections through downtown that have allowed bicyclists to ride to their workplaces "without feeling brazen or confrontational" with vehicles.
Buffered Bike Lanes, WIN!
It's so great to see buffered bike lane applications on Hillsborough Street and Gorman Street in Raleigh!  In some ways, I feel like we really launched into a higher echelon of providing facilities for all types of riders and the buffered lanes demonstrate this as they are more comfortable to riders of differing ages and abilities.  Could we see designs for some much awaited protected bike lanes in Raleigh in the near future!
Pedestrian Improvements, a surprising outcome, WIN!
I already mentioned how the road diet on Tarboro Rd improved the conditions for pedestrians but there are other areas feeling the ease as well.  The new lanes provide an additional buffer between the sidewalk and the travel lane, creating an even more inviting pedestrian environment in downtown Raleigh.  Pictured below is a delivery driver who is comfortable enough to use the bike lane pushing a dolly filled with goods to make a local delivery.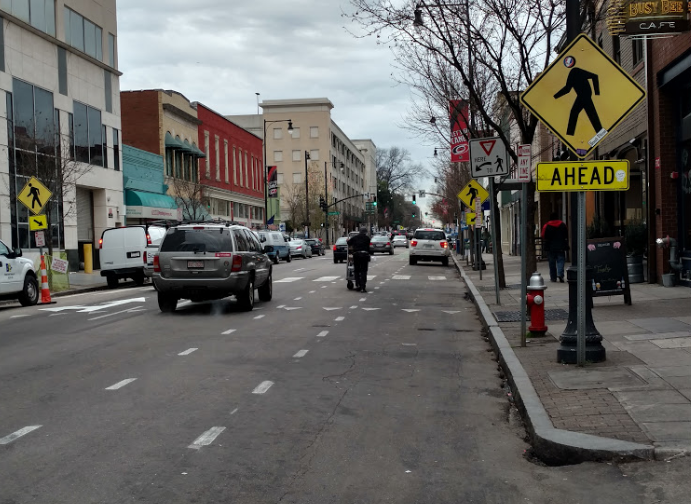 Sharrows, Lots of lots of Sharrows, HM.
With an awareness of how much effort goes into the design and application of bicycle markings, we are hesitant to boast about sharrows as paint applications considering what amounts to a limited benefit.  While there has been some research indicating positive impacts, there are other studies that show mixed results. We feel their usage should be limited to wayfinding applications with a preference for marked lanes and buffered lanes wherever possible.  When share the road applications are desired, Bicycles May Use Full Lane signage should be considered.  Bicycles May Use Full Lane signage delivers the desired message the most consistently to both bicyclists and motorists.  That message being that bicyclists are permitted in the travel lane and need not move over to allow motorists to pass them within the lane.  Sharrows are not a facility type.  They are included in the signage and marking category of the NC Pedestrian and Bicycle Infrastructure Network.