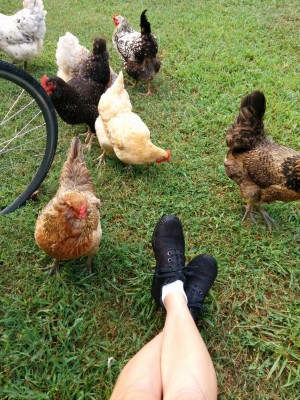 Last year, we talked about some SPD compatible shoes that you can wear around town without looking like you just finished taking part in the Spring Classics. After many months of wearing our DZRs around, we began to look for other options for stylish clipless shoes, and Chrome Industries has delivered with a redesigned urban shoe line. Featuring two distinct models, the Kursk Pro and Truk Pro, the Chrome shoes emulate classic styles (Chuck Taylor lowtops and Vans Classics, respectively) which you should find suitable for most casual attire. So how do they hold up on and off the bike?  Skip past the break for some short reviews from several of our contributors, going over their experiences!
Brandon's Review –
The Chrome shoes I'll be talking about today are the Truk Pro. First and foremost, let's talk about size. The first pair I tried, a 10 ½ (generally my size) were too large, and I had a lot of heel slip when I tried walking around. Dialing down to a size 10 fixed the problem, but allowed enough room to be able to still wear thick socks without constricting too tight. The canvas uppers were initially very stiff and a little uncomfortable, but after wearing them around the shop and on the road for a couple days they broke in very nicely. The main thing I notice about these shoes is how stiff they are. Not like, carbon Easton sole stiff, but on par with many entry level bike shoes and certainly stiffer than the DZRs which I have previously owned. What's nice is that there is enough flex left in the toe of the shoe to allow for comfortable walking. Even standing or walking in them all day long doesn't leave my feet or legs feeling too fatigued, which is a lot more than I can say for most sneakers or shoes that I have worn. This stiffness is probably derived from the almost full length shank which supports the sole, and a large elastic band inside the shoes which helps when you are pulling up on the pedals. Even the stock insoles are pretty nice, giving enough support for folks like myself with higher arches, and not requiring a special insole right out of the box. Laces are easily tucked under an elastic strap on the tongue, to prevent them from getting sucked into your drivetrain. There's also a reflective strip on the heel which is subtly colored the same as the fabric of the shoes, which is a great practical bit of safety. Props to Chrome for all of the thoughtful bits on these shoes.
Performance-wise, I've been impressed. I've ridden these as my commuter shoes, on group rides, to the coffee shop or bar, the grocery store, on the trails, out camping…so far, they continue to take any kind of thrashing I can give out. If I was going on a short or casual tour, these would be my shoes of choice (faster paced or extended touring would still merit something a little more bike oriented, however). Stiff enough on the bike to transfer power efficiently, but comfy enough to stroll around in. I initially wanted the all black shoes, but after changing sizes was only able to grab a pair of the grey and white ones. Turns out they still look really fly, and have garnered plenty of compliments from folks. These shoes work for riding 3 miles as well as they work for riding 30 miles, and I anticipate using them often during the coming months.
Kristy's Review –
This post follows another review I did on the DZR Minna last year.  I was fortunate enough to receive a pair of these from Chrome and I have been rolling in my Truk SPD compatible shoes for about 10 months now.  Regarding size, I think they run relatively true although if you have wider feet, you may want to order a size up.  My feet are more like a ducks feet, wide and good for swimming, so yes, I definitely ordered a size up.
They fit and look much like a pair of Keds which makes them appear much more casual than typical SPD compatible shoes, only the fabric is sturdier and more durable.  As an added bonus, there is a reflective strip of material on the back of the ankle which blends nicely in to the shoe's design.  The sole of the shoe is obviously much stiffer so they wear really well on the bike and have great stability.  Clipping in and out is smooth and quick.  Despite being bicycling specific and having that stiff sole, they are relatively comfortable to wear off the bike.  The heel doesn't rub when clipping in and out and while I may not choose to hike up a mountain in them, I can wear them off the bike for several hours and still be relatively comfortable.  I've done a lot of casual walking in them, mostly around downtown Raleigh, with no complaints but lots of compliments.  I love the reflective area on the back of the heel for the added visibility at night.  This was a nice touch on the product.
Since these shoes aren't really 'clunkly' like some of the other casual bike shoes on the market, they will fit under a pair of Giro booties in the winter.  For someone who commutes to work year round, I found this to be an added bonus because I didn't want to switch shoes in the winter.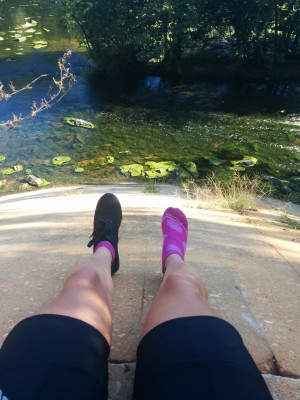 After this much regular use, these shoes are starting to show some signs of wear.  They've cycled a thousand plus miles to work and back, been up and down the Blue Ridge Parkway, on group rides along the Neuse River, on overnight camping trips to Falls Lake, 50 mile greenway rides, a 200k randonneuring ride and a variety of other fun cruises.
The paint on the shoelace eyelets is wearing off which is only cosmetic in nature and doesn't affect the performance of the shoe but there is also now a large tear developing on the seam that runs along the ankle on each shoe because the material is not  very forgiving.  Recently, the shoes and I weathered a pretty wicked rainstorm and I was sure that they would start to smell after that kind of deluge.  Fortunately, and likely due to my affinity for wool socks, they came out of it without much issue.  For the wear they are showing, I'm still happy with how they've lasted and how many adventures and thousands of miles they've carried me.  Here's to several thousand more.