Oaks & Spokes presents the second annual mobile food dive, Cranksgiving Raleigh 2015. This event is a Food Drive Bike Ride to collect food donations to support the Raleigh Rescue Mission.  Registration begins at 1 pm at Crank Arm Brewing Company on Sunday November 22nd. Riders will set out on this self guided grocery ride will start at 1:30 pm and can participate as an individual or a team.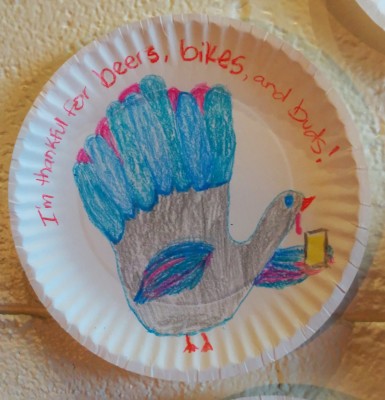 Registration is free for this ride, but be sure to bring a small amount of money ($15-$20 suggested) to purchase food donations.  Bicyclists are encouraged to bring a a bag , panniers, or cargo trailer to carry goods in addition to a bike lock.  After shopping, partncipatns will return to Crank Arm Brewing Company for the "weigh-in" of their collected items and enjoy an after party with a raffle drawing for prizes.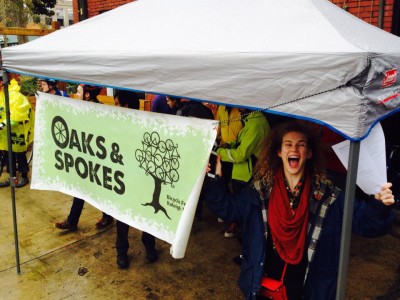 "It's a unique opportunity to combine holiday giving with getting a little exercise. It's not a race. Families come out and friends work in teams to carry the items they will donate. They have a good time and get to experience shopping by bicycle in the city.  Oaks & Spokes hopes that by participating in Cranksgiving people will be encouraged to take more short trips by bicycle in Raleigh" said Oaks & Spokes member Kristy Jackson.  Julia Garland added, "Cranksgving is a great way for new riders to get to know Raleigh because you can go at your own pace. When you map out the different places you need to go, chances are you'll end up discovering routes you have never taken and parts of the city you've never seen."
"Last year we road our bikes  around Raleigh, from the farmers markets to the grocery stores, and collected food. It was so rewarding to give back to the community while having fun," extended Oaks & Spokes member Evan Brigham.  So come out this Thanksgiving season and have a little fun while supporting your local community!
The first Cranksgiving occurred in New York City in 1999 and now is a national bike event throughout the United States. In 2014, Oaks & Spokes hosted Raleigh's first Cranksgiving where participants collected 620 pounds of food, including a dozen frozen turkeys and hams for the Raleigh Rescue Mission.
If you go:
Oaks and Spokes Cranksgiving: A Food Drive Bike Ride
Sunday November 22nd
Registration @ 1PM, Ride at 1:30PM
Crank Arm Brewery, 319 W Davie St, Raleigh, NC 27601
Bring:  A bicycle, lock and means to transport groceries (bag, panniers, cargo trailer)