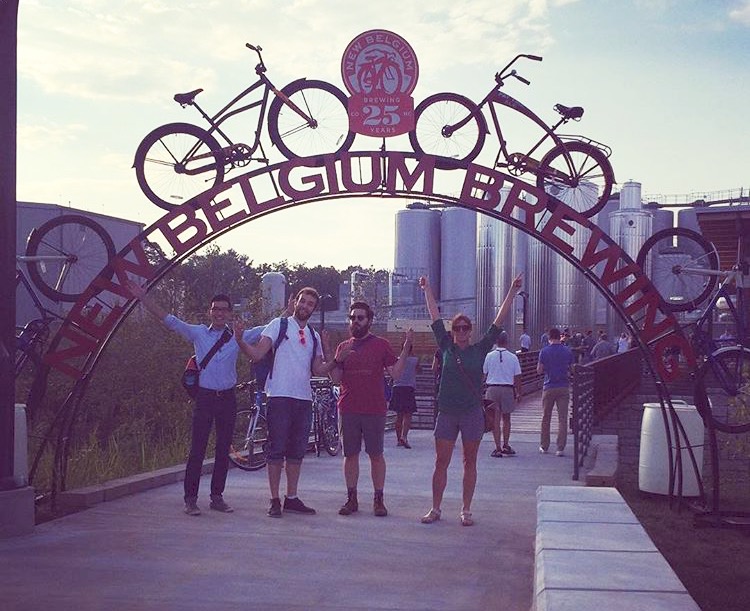 On September 16th and 17th, over 100 bicycling advocates, practitioners, elected officials, and government staff from across the state gathered in Asheville for the fifth annual North Carolina Bike Summit, hosted by BikeWalk NC and Asheville on Bikes. The Bike Summit consisted of presentations, group rides, a panel discussion about political partnerships, and a reception at the New Belgium brewery. The presentations were centered around the Bike Summit's theme, Pedaling Toward Economic Development, and the presenters collectively:
made the case that bicycling is good for the economy,

emphasized the need for increased and sustainable funding for bicycle infrastructure, and

highlighted the role that local advocacy groups, e.g., Oaks & Spokes, can play in making communities more bikeable.
Our very own Evan Brigham, Kristy Jackson, Harry Rybacki, and Trung Vo attended the Bike Summit, and of particular interest to us were the discussions about tactical urbanism, marketing bicycling, and embracing diversity. Oaks & Spokes has big plans to leverage our inspiration from the Bike Summit to keep rolling towards a more bicycle-friendly Raleigh.
Also in attendance were Ally Clonch and Nate Seeskin, both students in UNC's Department of City and Regional Planning who applied for and were awarded Oaks & Spokes conference scholarships. They had this to say about their experiences:
"The NC Bike Summit was a multi-disciplinary gathering of all people with a passion for bike and pedestrian infrastructure: planners, engineers, and activists. I was thrilled to converse with professionals and enthusiasts from a wide range of communities and learn about the challenges and innovations happening across the state. One of the repeated themes of the summit was the importance of inclusive community engagement in order to gain support for societal and infrastructural developments; for instance, tactical urbanism is a relatively cheap and effective tool that bike/ped professionals can utilize to garner public interest in proposed projects. I was also able to learn more technical information about funding, grant procurement, and navigating the legal framework of infrastructure development from public sector professionals. All in all, the NC Bike Summit provided insight to the dynamic evolution of active transportation around the state and harbored collaboration between all types of people to plan for more bike-friendly communities state-wide!" – Ally Clonch
"I am very thankful that Oaks & Spokes sponsored my attendance at the North Carolina Bike Summit. As a new graduate student at UNC's Department of City and Regional Planning and as a newcomer to North Carolina, the NC Bike Summit was helpful in me gaining my bearings with both the planning and bicycle communities in this state. At this conference, I networked with a variety of planners, engineers, and advocates and learned about the bicycle policy and advocacy environment here. My favorite parts of the summit included hearing from Mike Lydon from the Street Plans Collaborative about tactical urbanism and participating in a breakout hosted by planners at the Wilmington MPO organization on prioritizing funding for bicycle infrastructure. I find it promising that there is a steady network of people advocating for better bicycle infrastructure here in North Carolina and I look forward to getting more involved!" – Nate Seeskin
Stay tuned to learn more about next year's Bike Summit, Oaks & Spokes conference scholarships, and ways to get involved in bike advocacy!