This Saturday June 7 New Belgium is bringing a mini-version of the Tour de Fat to Raleigh!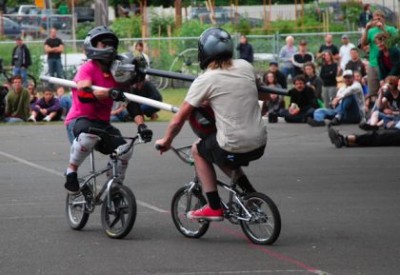 The event is here to give you a taste of the bigger show (occurring later in the month on June 21), to give you a sampling of beer and bemusement that these festivities are all about, and to raffle off a bicycle that would be quite sporting for a cruise in TdF's bicycle themed parade.  Collectively these events benefit bicycling groups in Raleigh, the Triangle, and greater North Carolina!  Here are the details:
Time:  1PM – 6PM Rain or Shine (see schedule below)
Place:  Raleigh Times (14 E Hargett St)
Bring:  Yourself, a costume for the photo booth,
Saturday Activities
1pm: Photo booth is live! Come in costume or dress up and take a photo of yourself using items from the tour's costume kit and you'll get a free pint of Fat Tire.   
2pm – 5pm:  Competitions!  Winners will take home VIP tickets to the Tour de Fat and prizes will be given to runners up.  First to Burst competitions, bracket style.  (Think hand pump, handlebars, and baloons.)  Mini Bike Joust competition!! (Have you ever wanted to see some tiny bikes and Game of Thrones style joust inside the Raleigh Times?  The world of bike jousting is wild and weird so get a taste of it here!) Costume competition (Adding some flair will most certainly increases your odds of getting free beer and winning prizes)
5:30 pm: Bike Raffle (The proceeds from this will benefit your friends here at Oaks and Spokes!)
Join O&S this Saturday!  To learn more about the Tour de Fat happening in Durham on June 21, go here.