Get excited, Spring is almost here!
With the weather steadily improving and more daylight hours available, many of us are itching to get back in the saddle and work out some of the rust in our bones. There are several opportunities coming up for riders to get on the road and take advantage of the warm weather.
Oaks & Spokes has once again teamed up with Tour de Brew for their annual brewery bike tour on April 8th. This event is a fun way to explore the city, spend time with friends, and raise money for a good cause. If you haven't already, please register today and start fundraising!
Regardless of whether you form a team, ride alone, or don't register at all please consider volunteering to assist this wonderful cause. Volunteer needs include ride leaders, sweeps, and middle-of-the-packers as well as folks to help out with registration and other on-site roles. If you're interested in helping out please add your contact information here or send an email to info@tourdebrew.org. We hope to see you there!
We recently posted an article to our website with several upcoming cycling related events and rides throughout the Spring. We hope to have a more vibrant and comprehensive calendar of events available on our website in the future. If you are hosting or know of any bike events or weekly social rides that you'd like to see included, please send us a Facebook message or email at info@oaksandspokes.com. You can also check out BikeRaleigh for more rides and events.
---
Bicycle facility updates!
The City of Raleigh is drafting the RFP to get proposals from potential Bike Share vendors/operators and hopes to release it soon. Once they select an operator, they will be focusing on identifying station locations. We'll keep you up to date on any BikeShare developments as they become available. In the meantime, you can check out the Bike Share Feasibility Report or offer your suggestions for potential bikeshare station locations here.
The City of Raleigh Bicycle and Pedestrian Advisory Commission (BPAC) meets on the third Monday of each month. This month's meeting will be on March 20th at 6:00pm in the Council Chambers at the Raleigh Municipal Building (222 W. Hargett Street). If you're interested in learning more about what the City of Raleigh has in store for bicycle infrastructure and community engagement, join our Advocacy Committee members at the meeting. Email the Advocacy Coordinator, Molly McKinley, at molly@oaksandspokes.com for more information.
---
It's that time again!
We are incredibly excited to announce the official 2017 Oaks & Spokes Annual Bicycle Festival event line-up! This year the festival features ten days of fun events from Friday, May 5th to Sunday, May 14th:
May 5th: Capital City Ride and First Friday Bike Ride and Art Show
May 6th: Bike Rodeo, presented by Marbles Kid's Museum
May 7th: Raleigh Mural Ride
May 8th: Bike-In Movie
May 9th: City Market Ride & Social
May 10th: Light Up the Night Ride with Crank Arm Brewing
May 11th: Rookie Invite Night with Raleigh Bike Polo
May 12th: Bike Fashion Show
May 13th: Raleigh Cat, presented by The Overlap
May 14th: Cyclofemme Ride, presented by Lady Bike Gang
We will be accepting submissions for the Bike Art Show until April 17th. To submit a work for the show, please email a high resolution photo and the details of your work (media, dimensions, and price, if you wish to sell) to bikeart@oaksandspokes.com. There is no submission fee. Artists whose work is selected for the show will be notified by April 21st.
Full festival details will be released soon, so stay tuned to our Facebook page and website!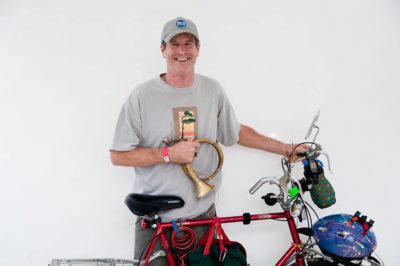 Carl Barnett was a much loved member of the downtown biking community who died on September 1st, 2016. On April 20th, Oak City Cycling Project will host a ride commemorating Carl's unique legacy. He graced many bike events with his fun-loving spirit and uniquely modified bikes. Please join us to celebrate his life and share some of his friends cherished anecdotes. There will also be a silent auction of some of Carl's prized possessions starting Friday, April 14th and ending the night of the ride. Proceeds will benefit the Historic Mordecai Park. Please contact Renee Foster at renee@oaksandspokes.com for more information.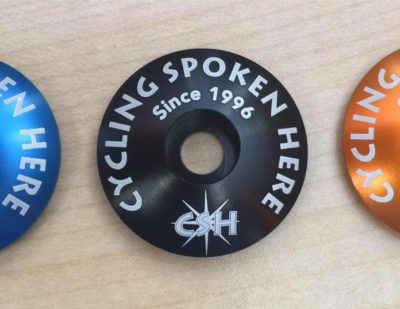 Whether you're cruising down the road or traversing the trails, Cycling Spoken Here knows that the more you ride your bike, the more you'll love it. CSH is a community bike shop in Cary, NC that hosts a ton of great social rides geared toward everyone from beginners to experts. On top of group rides, they also host tons of useful workshops and events to help you grow as a cyclist. Check out their website for more information and a detailed calendar of events.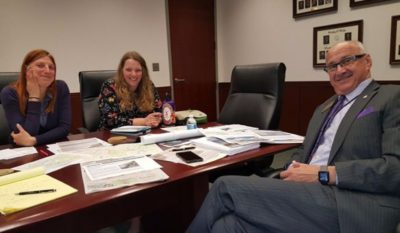 We're happy to have been invited to the table to discuss ideas for the RDU Forest Trail Center which could include a bicycling "super highway" along I-40 to better connect the Triangle. Big thanks to Wake County Commissioner Sig Hutchinson and Natalie Lew, an avid local MTB trails proponent and activist, for thinking big and moving not only this project forward, but thinking more holistically about funding and implementing these plans. Stay tuned as these projects develop! You can learn more about the bikeway proposal and why we're so excited about the possibility here.
*Like what you see? Sign up to receive our monthly newsletter in your inbox!*