By Liz Hester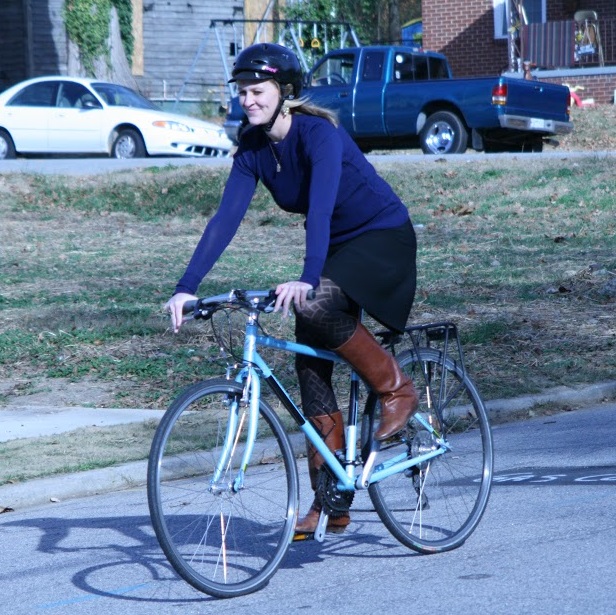 If you had asked me before last year about riding a bike, I would have said, I learned how as a kid and hadn't touched one since I got my driver's license (except that one beer biking tour in Munich, but that doesn't really count). At that time, I lived in New York City. Only crazy bike messengers and guys in Spandex rode bikes. It was just too dangerous. And in fact, I kind of hated those guys zooming past in Central Park hunched in packs, taking up all the space and getting angry when you accidentally stepped out of the running lane. They were so aggressive.
But my attitude began to change once I moved back to Raleigh. One of my friends co-founded Oak City Cycling Project and I wanted to be supportive of his venture. But the thought of riding terrified me. Once here, it quickly became apparent that I was going to have to get over it and get on two wheels. Everyone I met rode for transportation and fun. It seemed like everywhere I turned, the conversation was about bikes, components, routes, gear, or simply riding together.
Before I even found an apartment, I decided to just get it over with and buy a bike. I drove myself down to Oak City and shakily test rode various options around the parking lot. I felt like an idiot. I knew nothing. I had to be told what part of my foot to put on the pedal. It was all I could do to stay upright – forget shifting. I remember thinking I'd never make it to the road and if I did, that I would likely fall into a car.
It took a week of looking at my new bike after I took it home before I got up the nerve to actually take it outside. I rode in circles around the block and took a quick spin up the car-less greenway. I was terrified, but the thought of wasting all that money and failing kept me going.
Everyday, I practiced. I never rode far — likely five miles each time — but the more I rode, the more comfortable I got and the more I found I enjoyed it. I definitely wasn't fast and I was scared to take my hands off the handlebars, but riding was fun. I loved the breeze and how much ground I could cover.
After about three weeks of greenways and circling my neighborhood, I got up the nerve to join a cruiser ride hosted by The Beehive Collective. I was so new to Raleigh I thought this was a group supporting people who have beehives in their backyards. (This was a thing in Brooklyn.) Being completely terrified, I rode in the back.
Maybe it sounds melodramatic, but that one ride changed the course of my Raleigh life. While attempting not to hurt someone or myself, I met a Beehive Collective board member who told me about the giving circle concept, that they welcomed new members and that most everyone rode a bike. Through the act of riding with these ladies, I became a "Bee," and in the process found my social outlet and the types of people I wanted as friends.
A year later, I've upgraded to a road bike and can't get enough of it. Now, most days involve biking in some way. Leaving town usually includes planning a bike route or often a weekend riding trip with friends. Cycling has opened so many doors. I know my life would be a lot different and less fulfilling if I didn't have the social outlet of riding.
Cycling has truly shaped my sense of community and I'm so grateful for all the riders who slow their pace so I can join and patiently have helped me expand my knowledge. Because for me it's not about how fast you can go, but about the conversations you have, the friends you make and the places you see. Sometimes when I find myself in a bike related conversation I wonder, "Who is this person?" And then I smile.