For those of you who don't know what Ladies Army is- it's the most popular all women's bike polo tournament with participants from all over the world. There is a lot of debate around growing the presence of women in bike polo, which is currently a bona fide co-ed sport. So the idea of an all-women tournament has some people who totally support it and others who are against it. I'm not going to go much further into that because that would require its own blog post all together. I've been playing polo for around two years and never went to Ladies Army before. But this year, I found myself surrounded with two killer girls in my club that I can connect with on the court better than I do with most players in general. So, I had the perfect opportunity to go and play with Melanie and Christina as 'She Hulud,' if you're nerdy enough to get the reference.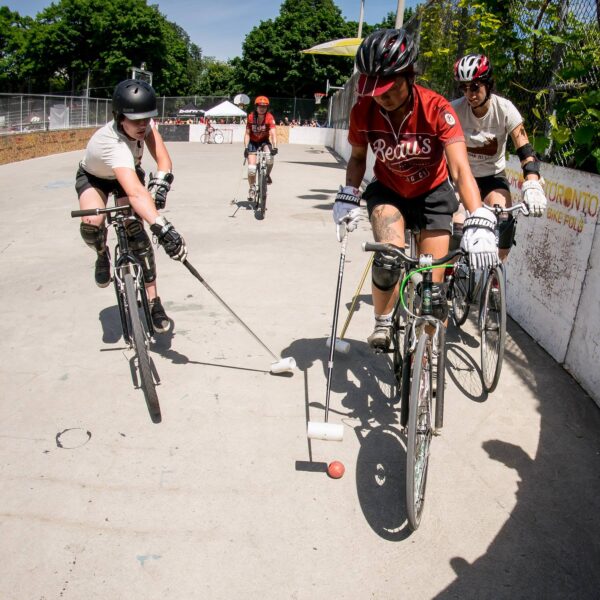 It's common for teams in Ladies Army to be composed of three women from clubs with varying locations. I was extremely lucky to have both Melanie and Christina in Raleigh with me, playing at pickup with me countless times, and constantly discussing how we can improve our plays. The tournament is always in a different location every year, and this time it was in Toronto, Canada. Due to our schedules we all traveled solo, so I disassembled my bike almost completely, stuffed it into a bike bag, and said a little prayer that it would make it all in one piece to Toronto. With lots of stress and not a lot of sleep I arrived in Toronto Friday morning instead of Thursday evening, after missing my connection due to weather delays and spending the night in NYC. But I was there, and I had my bike with me.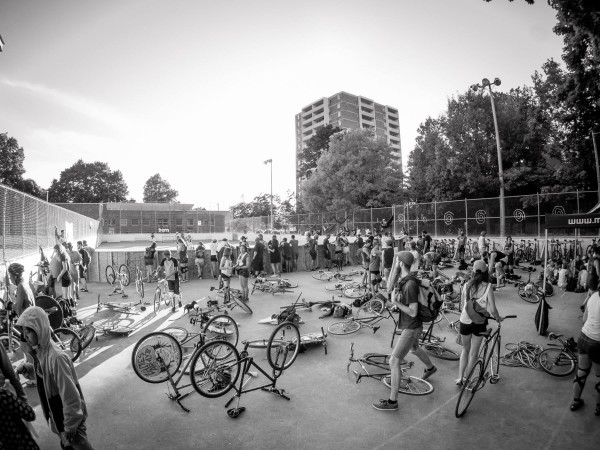 On Friday there was a co-ed bench tournament (basically means you play hockey style and swap out players) which I arrived a little bit late to due to mechanical issues, but I had a great time on Kiki from Toronto's team playing with a lot of people I had never met before. It's always a great challenge to learn to play with someone you've never played with before. You don't know what to expect out of them so it takes a lot of patience and communication. There were a lot of talented guys who had also traveled from all over to play in the bench, and cheer on the women as well as help referee games the following two days.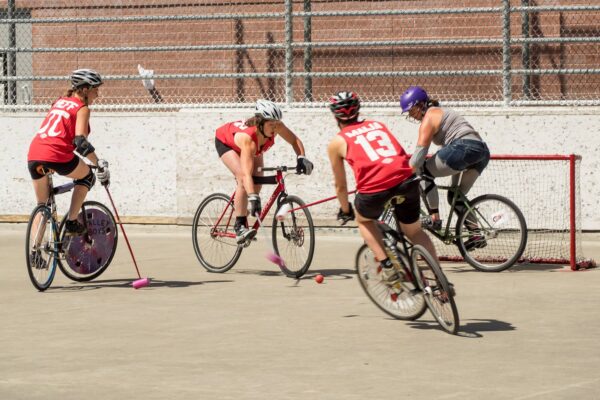 Saturday came around, and the real fun begins. Thirty all-women teams were scheduled to play six games each, meaning six rounds. It didn't matter if you won or lost, you would play those six games, and your record determines where you will be seeded for the next day's double elimination rounds. She Hulud performed pretty well that day, we ended up with 4 wins and 2 losses. One thing I remembered from our second game, that we actually lost, was that I was so excited to be cheered on by the Cunning Stunts the whole time. The Cunning Stunts (spoiler alert: won the whole tournament) are the only all-women team to be sponsored by the biggest polo equipment provider- Fixcraft. From my experience with other tournaments, the bigwig teams usually keep to themselves while others are playing except for maybe the occasional heckle. This was one of the biggest things I've heard from past Ladies Army participants, all the women are extremely supportive of each other no matter what. There are not too many big egos or fights which do happen frequently at coed tournaments, there was only the typical argument over a referee's call.
Unfortunately, in our last game, Christina got her mallet swiped from underneath her by the opposing team and fell directly on her shoulder. We determined later with the help of the 3 or 4 other players there that had previously dislocated their shoulders, that Christina's was dislocated as well. Promptly after getting it popped back into her socket, we all headed home after 12+ hours of being at the courts playing.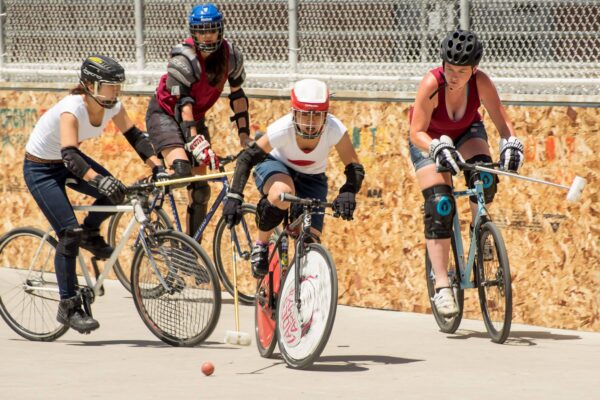 The next day, fueled solely by a diet of croissants and some fruit, we began the double elimination rounds. Our first game was up against the notorious team of ladies from Japan, called Sango. They threw us into the loser's bracket, but it was an honor because they played so fluently and composed together. We worked our way up through the loser bracket a few games- all the while Christina is in pain from her shoulder being dislocated- and then came to play Ovary Action. It was a very tense game and we had two minutes left. Mel was wrestling for the ball when he bike jackknifed and she took a spill. Of all the injuries that could happen, that fall dislocated her shoulder. That's two dislocated shoulders in less than 24 hours for a team. Mel was in a lot of pain and there was no way she could continue on, so found Kayla from Texas to join Christina and I. We were down with those two minutes left to go, but we tried our best and scored another goal but it wasn't enough. She Hulud was eliminated, finishing at 9th place.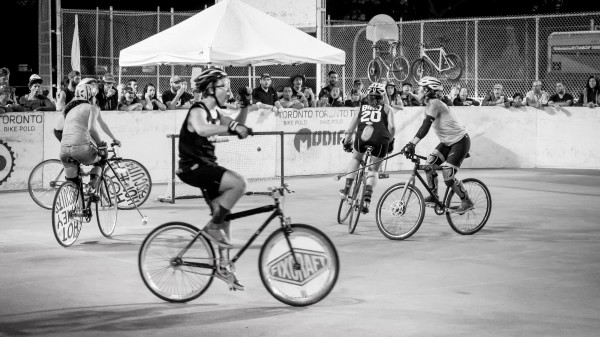 All in all, injuries aside, we had an awesome time in Toronto. Toronto Bike Polo organized the whole thing wonderfully and I can't wait for Ladies Army 2015 already. Several cities, including San Francisco are competing for the bid.  If you're a non-polo playing female reading this, I hope you find that anyone and everyone is welcome in this community and the ladies of bike polo are incredibly strong, supportive and great friends to have as well.  In Raleigh we'll be having our first all women's polo night: Wednesday January, 21st. Come out and see what it's all about! More info on the event here and the poster below!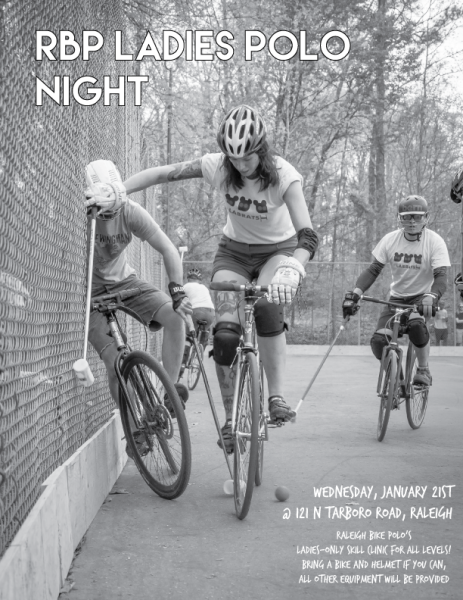 To learn more about polo in general:
To learn more about Raleigh Bike Polo: