Over the next few weeks, we'll be interviewing some local leaders and transportation specialists to get their thoughts on the Raleigh Bike Share. These interviews aren't an investigation into feasibility; we already know that Raleigh is a good fit for a bike share! Instead, these conversations give us the chance to get an in-depth look at what the bike share might mean for different parts of our community. For our first interview, Jacob Clayton, an Oaks and Spokes volunteer and lecturer in the English Department at NCSU, interviewed Kathryn Zeringue, NCSU's Transportation Demand Manager.
INTERVIEW #1: Kathryn Zeringue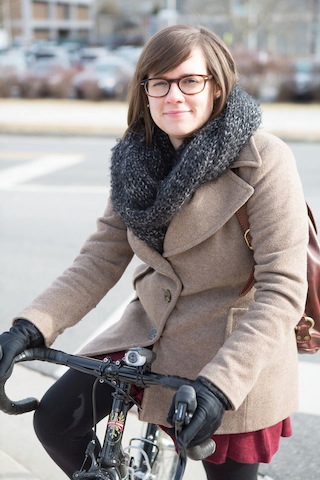 Kathryn Zeringue is the Transportation Demand Manager at North Carolina State University(1). As the TDM at NCSU, Zeringue promotes carpooling, vanpooling, walking, carsharing, ridesharing, and, of course, bicycling. Having lived in Raleigh, N.C., Blacksburg, Va. and the cycling hub of Austin, Texas, she knows a bit about transportation cycling. I sat down with Zeringue to talk about what the Raleigh Bike Share might mean for our community last Wednesday morning.
Zeringue currently lives in Durham, and she commutes to Raleigh every day by bus. Her bus drops her off on Hillsborough Street, at which point she walks a little over a mile to her office on Sullivan Drive. The practicality of the bike share is obvious to Zeringue; having a bicycle available on Hillsborough street would provide a "last mile solution," effectively shortening many university employees' commutes every morning.
NC State students also stand to benefit from the Raleigh Bike Share program, Zeringue argues. It could "give students a lot more choices" in terms of engaging with businesses and events downtown. Many NC State students don't bring cars to campus, and the GoRaleigh bus system can be intimidating for students who aren't familiar with public transit. As an instructor at NC State, I know first-hand how disconnected many first-year students feel from downtown, and, with dining and recreation facilities on campus, it's easy for students to avoid the larger city entirely. The Raleigh Bike Share could be one step in establishing a corridor between students and Raleigh's thriving downtown. Restaurants, museums, and arts venues get student business, and students get a chance to plug into Raleigh-based companies as they consider their professional futures.
The university has a long history of cooperating with the City of Raleigh to make the city and the campus friendlier to cyclists. NC State's transportation planners face some unusual, jurisdiction-based challenges when adding to existing infrastructure, but, according to Zeringue, "most of the success [NC State has] had getting bike lanes in has been with the city of Raleigh." With five bike share stations planned on NC State's campus, the potential for future collaboration between the university and the city seems high. At this point, the university, like many of our community partners, seems to be waiting for the city to put forward a plan.
Zeringue also sees opportunities for bike share use during Raleigh's lengthy festival season. During major festivals like Hopscotch, SparkCon and the Oaks and Spokes festival, commuters might be attracted to transportation alternatives that don't require consulting transit schedules, fighting for parking spots, or detouring around closed-off streets. Other cities have already seen the mutually beneficial relationship between festivals and bike shares. Austin B-Cycle, for example, set their single-day record with 3,032 checkouts during the 2015 SXSW festival.
I closed out our interview by asking what advice NC State's Transportation Demand Manager has for the Raleigh's elected officials as they consider whether or not to support the bike share program. Our leadership should "[build] spaces for people, not for vehicles" and "understand the value in prioritizing transportation projects that promote community," she said. "A bike share could do that."
Remember, this is the first of a number of O&S Bike Share Interviews. Check back regularly for more discussions with leaders from all corners of our community!
(1) The opinions expressed in this interview are not intended to reflect institutional policies or commitments on the part of North Carolina State University.