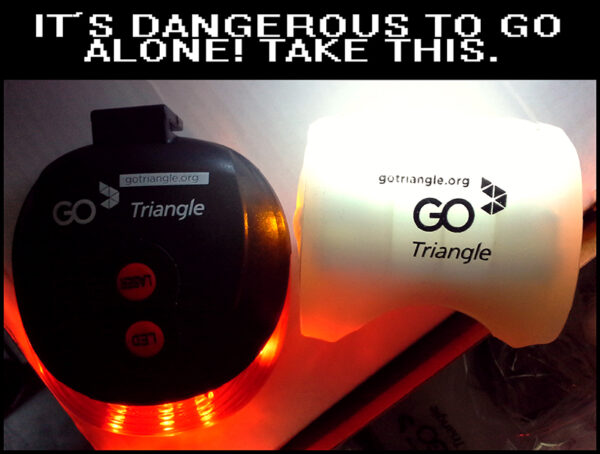 Raleigh's unpredictable weather means a chance of rain tonight for Oaks and Spokes' Light Up the Night Ride. We plan to be at Crank Arm, regardless of the weather, to proceed with our celebration of bikes and more importantly — our bike light giveaway! Thanks to the City of Raleigh and Go Triangle, we are stocked with a supply of bike lights to give to any cyclist that needs them.
Law requires cyclists to have a front and rear light!
Ill-equipped for nighttime riding and optimal visibility? Come by Crank Arm tonight from 7-9pm to receive your lights to be better prepared for the adventures that await you!
Our scheduled Light Up the Night Ride may still happen at 7:45pm, should we deem the weather conditions to be safe to ride. If the ride is postponed due to rain, we will have a game night inside!
We encourage you to come out and enjoy a Crank Arm brew of your choice, play some games, and meet other cyclists within your community! A portion of the proceeds from the evening will be donated back to Oaks and Spokes — so invite a friend and help light up the night, whether it be outdoors with our bikes or inside with great company and conversation.
Hope to see you there and, of course, thank you for riding your bike!