I am not a cyclist.  At least I've never identified as one.  I've never bought a bike, there is no bike rack on my car, and "cycle score" was never a consideration when I moved into Raleigh. I wanted to walk into town and accepted driving into work.
Fast forward a couple years and I wouldn't want to be in the city without a bike.  I use it to socialize, exercise, to get out of the house, or enjoy some nice weather.  Neighbor having after-work beverages a mile or so away?  A bike can be a little easier than getting out the car & finding a spot to park.  Early voting?  Way easier to lock up than find a street spot on a workday.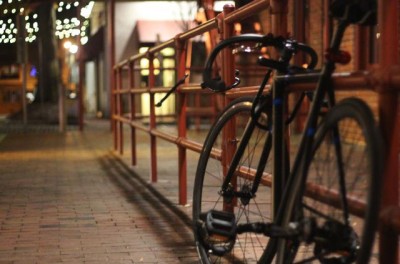 It was an emergency coffee run that would ultimately introduce me to the bike culture of Raleigh.  The owner of my local shop noticed I'd come in on a bike — a hand-me-down recently restored to minimally rolling conditions for just such a lazy saturday incident — and asked if I wanted to join up with the weekly ride that met up at his shop.  I said I'd think about it, left, and went about my life for a couple weeks.
But then a tuesday came.  With me at home, good weather, and no excuses not to get a little exercise,  I thought about it a little more.  I tried to convince myself that I could be doing other, more productive things.  But I decided to push my comfort zone.  Assured that it would be a casual ride (maybe 45 minutes, but at a pace where you could talk and ride at the same time), I gave it a shot.  Maybe I'd meet some people, maybe just explore the city a little more.
I've been riding with that group for about 2 years now.  Now I know my city roads better.  And I know a lot of people I otherwise wouldn't.  The ride has grown immensely & evolved along the way.  Whereas we used to be focused on what we wanted to explore (all 4 of us), road safety and riding etiquette have taken center focus.  If you think those topics are closed subjects, just stand around after the ride one day — I assure you the debate on the safest, least obstructive way to interact with cars is alive and well.  But it's all in an effort to have an enjoyable ride & a good time.  And the occasional free giveaway sure doesn't hurt that 😉
It's really the ancillary stuff that keeps me riding.  While I have no real ambitions to bike to Durham, I still enjoy an excuse to get out and ride 10-13 miles around the city with some cool people.  Like any group of passionate people, they're pretty welcoming of people showing an interest in their hobby.  And I'm just dabbling.  That's what I mean when I say I'm not a cyclist.  And you don't have to be a cyclist to ride a bike either.  Just show up.  Meet some new people.