DZR offers a stylish, subtle way to take advantage of your clipless system with their SPD-compatible shoes. They offer several different styles, in both men's and unisex formats. While they are designed for use on the bike, they come with a bolt-on plastic piece that you can leave on in place of the cleat, if you just happen to really dig their style and want them for off the bike use.
In this review, we cover a few different models, and their performance as a cycling shoe, a  casual sneaker, and a "transition to work" shoe.
---
Casper:
The style that I own is called the "Strasse" and they are made with cloth, rubber, and leather. I've owned these shoes for over six months now, and I have used them regularly and put them through some pretty rigorous use. They are definitely more stiff than traditional sneakers and allow much better connection than toe clips and straps. That being said, there is still ample flex in the sole to allow for romping around, if need be. This also equates to them not being as efficient as regular bike shoes which tend to have very stiff soles for good power transfer. Something else to note is that along with increased flex, the lacing tends to make it difficult to adjust to the proper fit. My particular model takes a while to put on/take off, which leads towards me being a bit lazy when tightening them up. Its worth noting that DZR shoes run small, I usually wear a 45 but ended up getting a 43. I highly suggest trying them on at your local dealer vs. ordering online blindly. I've used these shoes under high power, and while they are good I have found myself wishing for a more firm and conformed shoe during these times. Like almost all shoes, the insoles are lacking and could benefit from something better fit to the foot (especially us folk with high arches).
All that being said, they are a great option for commuting, hitting the bar, or using your bike for everyday stuff. The cleat is recessed enough to where there is very little "crunch" when you walk, except for gravel or really uneven surfaces. Most people won't know they are bike shoes unless they catch a glance at the bottom and I've gotten more than a few compliments about how cool they look. After months of hard use, they do show wear but still remain in one piece and functional, which is respectable considering that I am not easy on my shoes. The "Strasse" model is not very well ventilated, which is nice in the winter but not so much as it is starting to warm up, leading me to consider looking into a different model for summertime use. In particular, there are a few low top  models which feature a single velcro strap which fashions the shoes, which would make it much easier to put them on/take off.
Bottom Line: In short, the DZRs are a great way to ingratiate your bike further into an everyday lifestyle. While they work well on and off the bike, keep in mind they are not a cycling shoe proper.
---
Crash Test:
I also opted for the "Strasse" model. I chose them simply for looks: the herringbone is classy. I found DZR European sizes odd and varied a lot between models so do find a local dealer to try on sizes in the model that you want before making your choice. I didn't have any issues setting up the cleats, nor have I had to make any adjustments to the cleats.
I really like the shoes for riding, which is a great thing in a cycling shoe. They are stiff enough for all of my commuting and recreational riding. There are no hot spots over the cleats and the high-top style allows you to really tighten them up, if you so choose. I also find the lacing to be a chore; it seems to take forever and there is no convenient way to 'slip them off' while tied. Perhaps I'm just lazy, but it's worth considering if you frequent shoe-free homes. I found that the upper edge of the shoe cut my ankle a bit when brand new (something I've also experienced with high top Chucks) but after a few weeks of breaking the shoes in all is well.
I do find the shoes adequate for running errands around town or hanging around after a ride but generally they are not very comfortable off the bike. If I'm walking or standing for more than an hour or so my feet art to stache. This might be cured with an insole, but I don't mind the trade-off as they are swell riding shoes. While DZR now offers a full-waterproof model, I do find the Strasse offers decent protection if you do get caught riding in the rain. The non-perforated construction means my feet can get toasty in the North Carolina heat.
I really like the "Strasse" and many of DZR's options for riding shoes that don't look like riding shoes. For anyone who rides a lot and is considering clipless pedals, DZR can get you started riding clipless without having to 'tap dance' around town. If you commute by bike but work on your feet, you'll definitely want to stop by a dealer and give them a long test before committing.
Bottom Line: A good cycling shoe, with a unique herringbone pattern that is well-suited to riding but a bit stiff for pedestrian duty.
---
Dactyl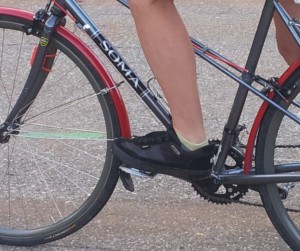 I was looking for a ladies cycling shoe that could "transition to work." I commute about 7 miles into the office everyday and although I keep a pair of heels at the office, I often ride to meetings or desire a flat shoe to cruise the halls in..  I went for  the "Minna" model but not because I was particularly impressed with the style, rather because there really isn't a lot else out there in the way of women's casual cycling shoes.  DZR offers some styles in unisex sizes although they don't say they are women-specific.  Since the "Minna" was just plain black, that was about the best I could do to get away with a shoe that would blend in relatively discreetly with a pair of purple corduroys and a blouse at work.  Fashion forward!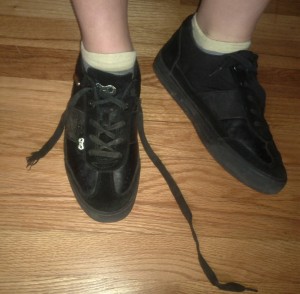 The shoes are heavy (understandable) but they are also just really bulky.  I'm not used to wearing skate-style shoes in general but If I close my eyes and ignore how giant the shoes feel on my feet, the "Minna" is very comfortable.  The shoes ran 'true to size' in the beginning but I have found that over time they feel more roomy, perhaps due to the leather stretching or padding wearing down making them feel bigger and more clumsy than they actually are.  The shoelaces are about 10" longer than they need to be — so advice for anyone getting a pair of these, just go ahead and get yourself a new pair of laces lest they find themselves being shredded apart by your chainrings.  Or you can just be like me and begrudgingly tuck them at the start of every ride you notice them flopping a little too close to the chainring.  It's a little annoying that they couldn't have put an appropriately sized pair of shoelaces in the box.
I don't think these shoes would pair well with any kind of skirt, dress, or capri, but that's ok because in the summer months you probably wouldn't want to be wearing these anyhow.  Here in North Carolina, it's just going to get too hot for this much black and this much padding on any shoe .  In the meantime, I'm still wearing my "Minna" shoes to work daily hoping that eventually someone comes out with a lighter more streamlined version of a bike shoe for women that isn't so clunky.  Also, the laces are an annoyance so I hope to find a shoe that manages these better.  That being said, I have no complaints about their comfort and they are an extremely functional bike shoe.  They've got over 1,000 miles on this point and have held up to all sorts of abuse.
(As an aside, you do not NEED a bicycling shoe to bicycle to work.  I did it for 10 years with no complaints.  Sometimes I still ride to work in ballet flats or a pair of sandals.  It just depends!)
Bottom Line:  A relatively functional, not so fashion forward, option for women's casual cycling shoes if you don't mind feeling a bit like bigfoot.