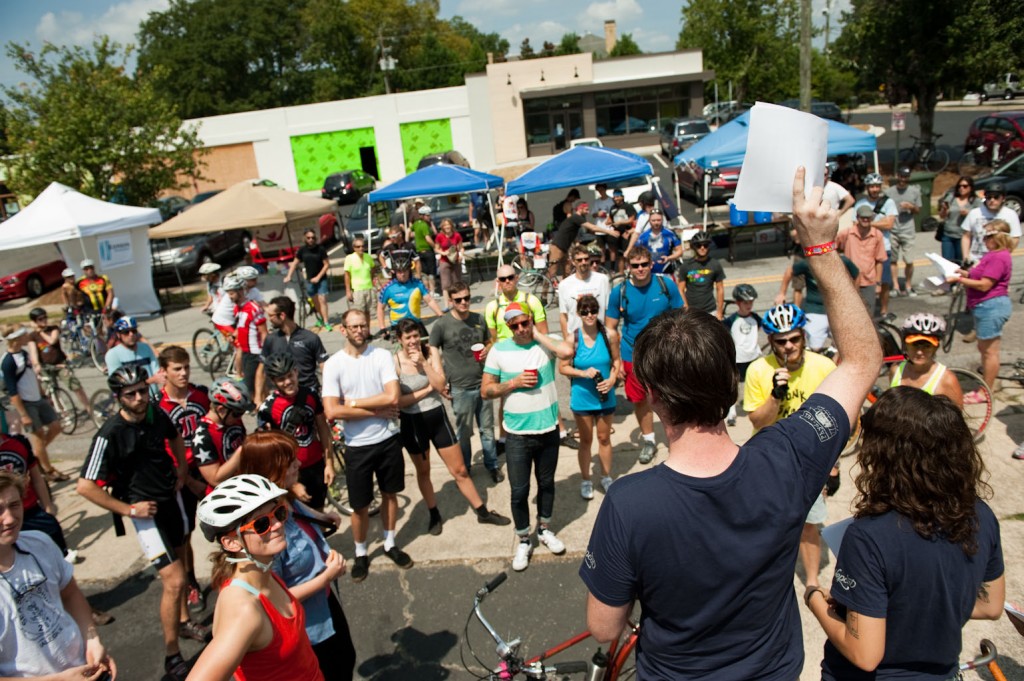 Did you miss the Hepcat Race this year, or were wondering how it went? Well lucky for you, the folks from Oaks and Spokes were on site and taking everything in to share with you all. Have no idea what Hepcat is, but want to know more? Either way, jump past the break for our recap of this purr-fect day!
Alleycat races are really fun. I know that seems like a bland and cliche statement, but it's true…there are so many different elements that you can enjoy, regardless of whether you are super competitive or just out to have a fun afternoon with friends. This alleycat, called Hepcat, raises money and awareness for Safe Haven, which is a local non-kill shelter for cats. All of the money raised from registration and raffles goes to this great non-profit, which provides both adoption as well as spay/neuter services for cats and other small animals. It was the third year of this event, which usually happens during the weekend of the Hopscotch Music Festival…however, it turns out that there are some folks who are not too keen on waking up and riding their bikes in the summer heat after being out all night at a music festival. So it was decided to hold the event a week earlier, on August 31st at Oak City Cycling Project.
For those who don't know, an alleycat race is basically a bicycle-powered scavenger hunt. You are given a manifest (list of clues) which hint towards locations, and it's your job to decipher the clues and determine the most efficient route to take! They tend to take place  in urban or metropolitan areas, and got their start from bike messenger races in big cities. The modern alleycat is generally more lax than courier races though, and each location usually has some fun task or activity that must be completed before continuing on.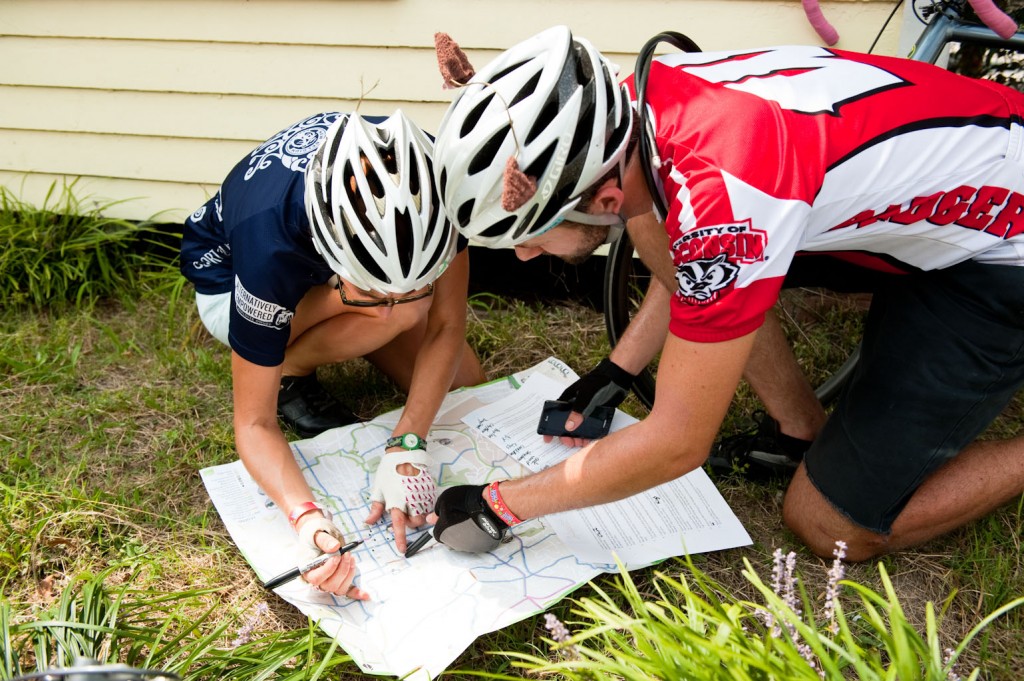 Participants started showing up at noon, when the shop opened. There were some tents outside with some the registration table, some swag, reps from Safe Haven, and even a photo booth (from whom we got a lot of great photos to share with you all, a big thanks to Bryan Rierson Photography. The street had been closed, which allowed everyone to mill about and hang out before the race started. It was a warm summer day, and I personally was not too jealous about missing out on all the sweaty riding that was soon to follow. Something that I noticed was a really diverse crowd showing up…there were you usual folks on road bikes with spandex, plenty of single speeds and fixies, mountain bikes, cruisers…I think my personal favorite was the family who were pulling their kids in a Burley while another child rode along beside them. How often do you get a family coming out to an alleycat?! Not often enough, in my opinion. There were about 120 participants and it was exciting to see so many different kinds of riders out.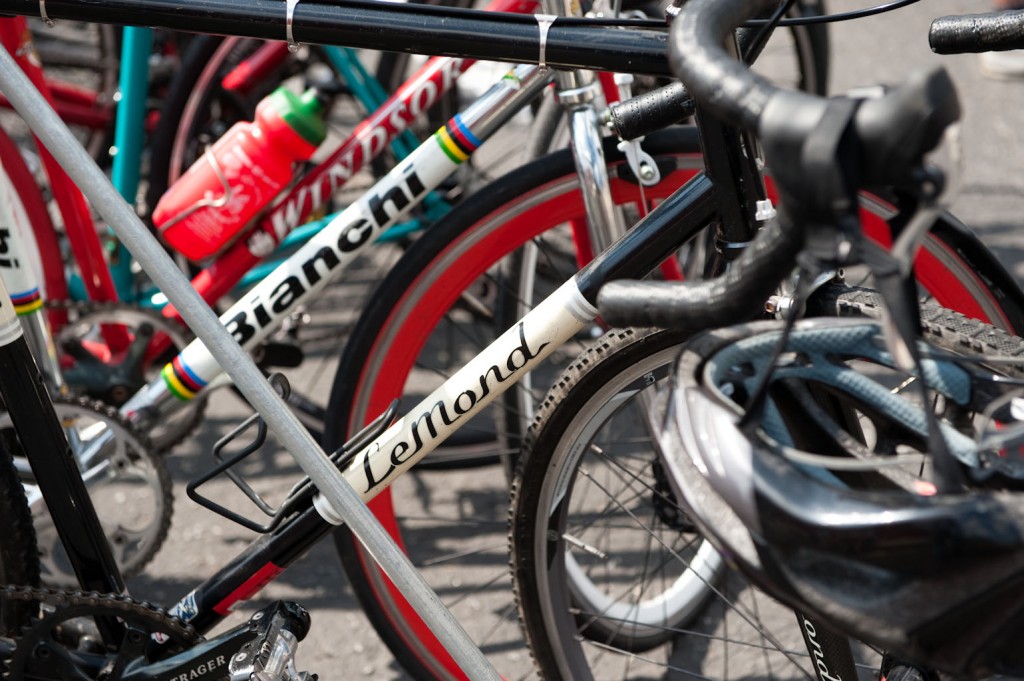 I missed the race start, due to having to leave early to get to the location I was staffing, but I'm sure it was exciting to watch a hundred-something bodies and bikes pouring out of the street. There were some really cool checkpoints this year, like Raleigh City Farm, Phydeaux, Dorothea Dix, Crank Arm Brewing, and the Oakwood Cemetery. Hopefully everyone had the chance to make it to every stop and take part in some of the activities that were planned. My own checkpoint involved goading riders to ride up a hill at Dorothea Dix, which many were not too stoked on…what's the matter guys, don't you like climbing?
Back at the race finish, everyone came back to food from Captain Poncho's Tacos, ice cream from Pop Up Ice Cream Parlour, cold beer from New Belgium, and delicious coffee from Slingshot. A big thanks to these businesses for supporting Hepcat with their satiating food and drink! People were invited to grab a beverage, some tacos, and relax for a bit while they recounted their experiences of the day. Raffle tickets were selling fast, most likely due to the fact that the grand raffle prize was a brand new Bianchi Pista, provided by Bianchi and Oak City Cycling Project. There were loads of other great prizes as well, like messenger bags, shoes, records, bike lights and gear, pet supplies, and gift certificates. There were prizes for first and second place, who were actually a couple that won some cool gear and the coveted Chrome jerseys! Third place was claimed by a group of dudes who all rode together. Congrats to the winners, and also to everyone else who came out to make this day happen.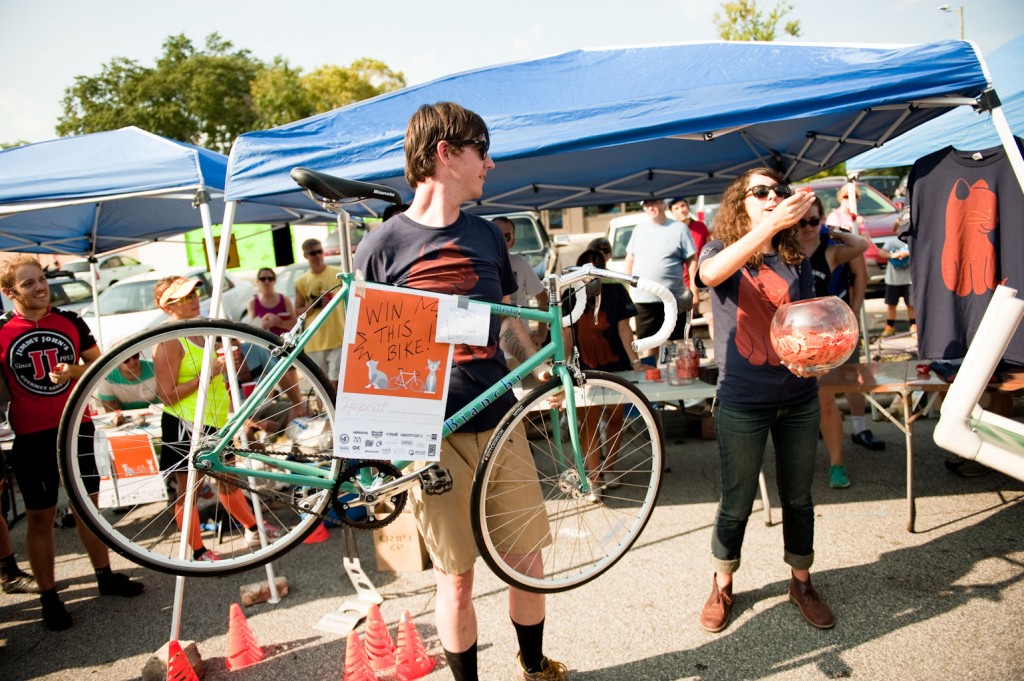 Lots of money was raised for Safe Haven, and plenty of fun was had by all. As earlier stated, Hepcat is an annual event so be sure to look out for it around this time next year if you missed it!
See the full photoset from Rierson Photography here:  http://bit.ly/18Si1lc