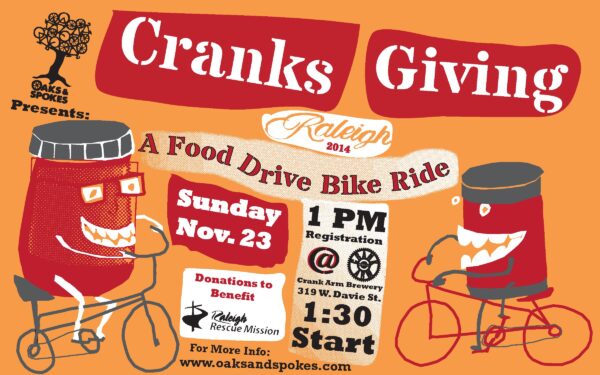 I'm excited to announce a new Oaks & Spokes event just around the corner: Cranksgiving, a mobile food drive on two wheels (or three if you have a tricycle!) where riders collect food and donations from local stores by bike. Cranksgiving is a national concept that started in New York in 1999 and has spread to countless other cities since. It is such a fun and excellent way to bike your city, build community, and help provide for the needy during the holidays.
Here are the details for our very own Raleigh Cranksgiving 2014
When:
– Sunday November, 23
– registration at 1 PM
– ride starts at 1:30 PM
Where:
– Crank Arm Brewing Company
– 319 W Davie St.
What to bring:
– A bike
– A bag (backpack, messenger bag, pannier, etc.)
– A Lock (to secure your bike at each stop)
– $15-$20 to buy food
All of the food and goods collected at this event will be donated to the Raleigh Rescue Mission, a faith-based non-profit agency providing homeless men, women, children, and families with food, shelter, safety, educational and vocational training located in downtown Raleigh.
I can't wait for this event and hope to see lots of familiar and new faces come out to ride their bikes, have fun, and support their community! Stay tuned here for details or check out the Facebook event page to see info and updates on the ride.