I think the #coffeeneuring challenge comes at the perfect time.  Running from October 4 – November 17, it spans through North Carolina's fall colors and into the beginning of colder temperatures where you need a reason to get up and get out on a chilly morning.   Although there are several ways to explain what coffeeneuring is, my favorite way of putting it is this:
Getting a cup of coffee with a bunch of rules.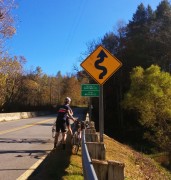 Now who would want to do that, you might ask??  Why can't you just go get a cup of coffee on the weekend and be done with it?  There are folks all across the country getting cups of coffee, following simple rules, and enjoying both small and large adventures in the process.  You can read all about the rules, but I'll give you the main idea: take a casual bike ride to get 7 cups of coffee in 7 weeks, one cup per weekend day if you work a regular M-F job, at a variety of places and document your experience.  Other beverages such as tea qualify as well.  Read on to learn more about my adventure and hopefully next year you will join myself and others in the challenge!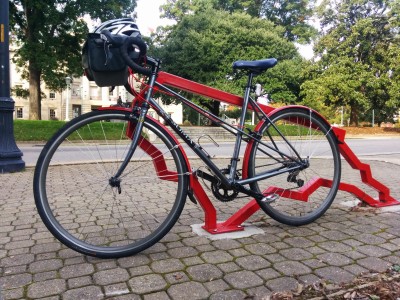 It started relatively simple, with the goal of getting a cup of coffee in Saxapahaw — a bucolic ride just west of NC's Triangle region.  Next, coffeeneuring started getting combined with other travel when I rode to get a cup in conjunction with a bike MS Ride in an oceanside part of the state very close to the South Carolina border.  I started thinking more about using coffeeneuring as excuse to have adventures across the state so the next trip for a cup of coffee drew me out into the mountains of NC to bike and also to hike.  The "challenge" has now taken me across the entire state of NC, from the mountains to the coast and everywhere in between including the Piedmont and the Triangle.
The challenge ended yesterday and I have officially completed it.  Though it does come with a bit of sadness because it really has been an amazing time, I'll take a few moments to reflect on the adventures I've had…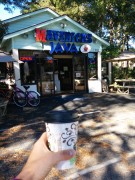 Coffeeneuring #1:  The General Store in quaint Saxapahaw, NC  (59.3 mi.) This place is a gem in rural NC and is a perfect destination and gorgeous bike ride outside of Chapel Hill and Carrboro, NC. For this trip we started with a coffee at the Weaver St. Market and set out on an adventure on a chilly morning in some drizzling rain.  The warmth of the General Store and coffee on a dreary day was just what we needed.  The General Store locally sources from all over the Piedmont region and affectionately call themselves a "five star gas station." The coffee is good!
Coffeeneuring #2:  Maverick's Java in oceanside Sunset Beach, NC  (2.2 mi.) You might notice the minimum miles here to meet the challenge which occurred on a beautiful Sunday afternoon.  The miles were put on the day before when we challenged ourselves to a century bike ride at Bike MS: Breakaway to the Beach and were just too tired and sore to do anything but get a coffee and walk down to the intracoastal waterway for a stroll.  Maverick's has a couple of outdoor tables and breakfast and the view here and location next to the beach is a great place to experience the beauty and diversity of the intracoastal waterway.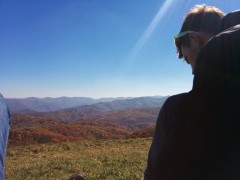 Coffeeneuring #3:  Zuma Coffee in mountainside Marshall, NC (48.1 mi.) Oh the mountains!  It was irresistible to take a fall trip in the middle of the color boom in the Blue Ridge Mountains.  Fortunately the trip along River Rd and Riverside Dr outside of Asheville up to the Madison County Seat along the French Broad River was not busy as I'm sure all of the real tourists were driving on the Parkway.  Zuma Coffee is located just outside the courthouse and just down the road from a bridge where you can look out over the river and dam.  So beautiful!!
Coffeeneuring #4: Flip Side Cafe in charming Clayton, NC (53.0 mi.) This was an excellent ride in the Triangle area of NC which doesn't have mountains and doesn't have ocean views but it makes up for it.  From Raleigh, all you need to do is hop on the Neuse River Greenway which spans some 28 miles and be whisked away into rural, easy riding, complete with suspension bridges and long views of the countryside.  The Flip Side in Clayton is a hidden gem with a great back patio which serves not only coffee, but breakfast and brunch!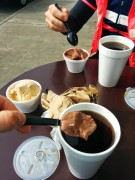 Coffeeneuring #5: Pt 1 (3.5 mi), Pt 2 (4.7 mi), Pt 3 (42.7) – Amtrak Adventure!  On the Amtrak Train from Raleigh to Greensboro, at breakfast, and at Six Scoops in rural Gibsonville, NC.  It's too hard to choose which cup of coffee I'd want to qualify so I'll just list them all.  Bikes ride free on the Piedmont Trains so I decided to wake up at 6:00AM and get myself to Greensboro for a little rural riding.  My first cup was complimentary on the train itself so I'm going to go ahead and put this one into the "coffeeshop without walls" category but perhaps it would qualify for a new category, "coffee on rails."  The second cup was with breakfast prior to the ride, and the third cup was a sad little cup of coffee at the only establishment in the sleepy little town of Gibsonville, NC that was open.  The homemade ice cream ordered with the coffee more than made up for it, though.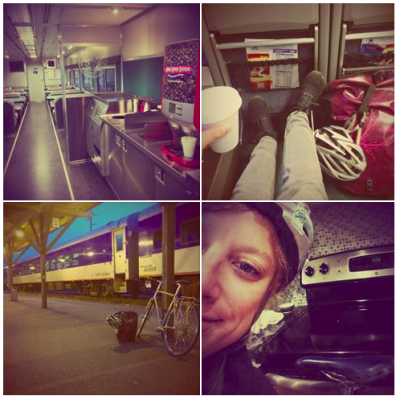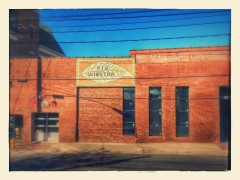 Coffeeneuring #6: Tour de Winston-Salem to Mary's Gourmet DIner (11.3 mi) I was already in the 'neighborhood' so I popped on into Winston-Salem to visit my friends over at BeersNGears.com for a little cruise around the city and a breakfast run in below freezing temperatures.  WIthout the challenge, I am nearly sure we would have stayed in bed with the rest of North Carolina which is to say, there was so little traffic – you could almost hear a pin drop.  We toured Washington Park, Old Salem, and cruised on the Strollway before heading into downtown for a chocolate tasting and then a delicious breakfast.  The coffee all came in different mugs and none of the plates matched and the place just felt cozy and reminded me of my own eclectic kitchen.  In combination with the falling leaves which mimicked rain, the glorious sunshine, Winston's quirky historic charm, and the briskness making one feel a little more alive and alert, this was a worthwhile adventure.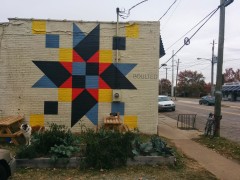 Coffeenuering #7: A Long Linger is a Capital Idea (8.3 mi) – It was a tough decision to figure out where to go for the last ride of the challenge.  I ended on a solid note with a meandering ride around my own environs of Raleigh, NC – cruising along the grounds of the state capitol building, doing a few errands on Fayetteville St, taking care of a friend's chickens, stopping to check out a mural in progress at my favorite local bike shop, and of course – getting a cup of coffee.  I decided on Boulted Bread because it is a wonderful welcoming place with great bakery and for what it's worth, what I think is some of the best bread in the entire Triangle.  With a bit of a heavy heart, I spent some time reflecting on my adventures thus far and then headed over to cheer on a few friends racing at the NC Cyclocross Series in Lion's Park.  

While the challenge is now over, it's time to find new reasons for excursions both big and small!  A photo recap of my 2014 #coffeeneuring and side adventures (so far)!  It's barely over but I'm alraedylooking forward to next year.