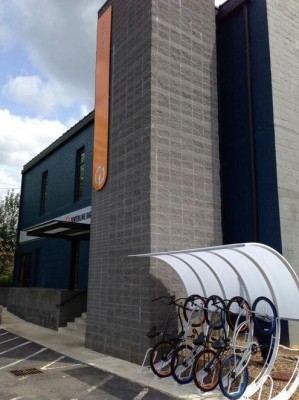 Located in Downtown Raleigh's Glenwood South District, lies Centerline Digital, a content marketing agency.  Their professional focus is on solving complex communications challenges with strategic and creative digital content, but their workplace environment embodies much more than that.
Centerline Digital's offices are housed in what was originally a warehouse, but most recently was a gym. The space has been redesigned as an office, but when I arrived to interview John Lane, the VP of Strategy and Creative, I thought for sure I was in the wrong place. The space doesn't feel like a workplace. There is a bar with taps for beer in the middle of the room, and people sitting in sofa chairs, or restaurant-style booths, eating lunch while working on their laptops. It feels too laid back and comfortable to be a workplace, but after talking with John I realized that this was just part of the culture Centerline Digital has cultivated. They want their employees to enjoy their job, and feel at home in their workspace.  John sees the company's bicycle rack as a "nice outward expression of an inward culture".
When Centerline Digital moved into its current office space, they realized there were a plethora of restaurants and destinations that were a bit too far to walk, but not really far enough to justify driving -even in the most walkable neighborhood in Raleigh.  Wanting to encourage employees to drive less, and also to give them an opportunity to exercise more, they invested in creating a shared bicycle service. Bicycles are good choice for that "in between" distance for a short trip — and are often quicker than a car for trips under 3 miles.  With the shared bikes, any employee who wants to use a bike can talk to front desk staff to get a key, as well as a helmet and a detachable basket. This allows them the option to ride to places such as Cameron Village, or Raleigh's core downtown area, giving them more range during their lunch break.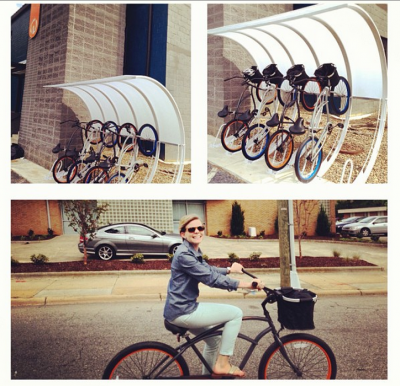 The bikes are used very frequently, although naturally their popularity is influenced by the weather. When the weather is nice, you'll often see the rack empty, as employees take off on a short ride to lunch destinations. At the time of my visit, they only had four bicycles for use, but if demand increases they could easily increase this number. Overall, the program has been successful and most employees agree. When asked where they had taken the bikes the lists ranged from restaurants, to the dentist, to museums, and to visit spouses and friends during lunch breaks.  It is clear that the availability of Centerline Digital's "bike share" offers the employees some freedom to roam.
Several employees who use the shared bikes already rode in their free time, so taking the bikes to lunch was a natural choice. However, others said it was the opposite.  They noted that the availability of bikes at work has opened their eyes to how wonderful cycling can be, encouraging them to ride in their life outside of work.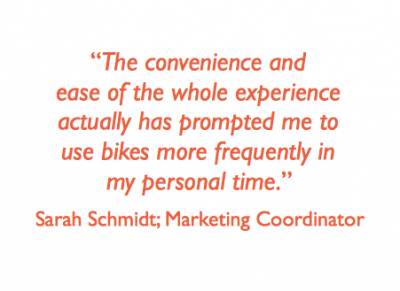 Obviously employees are also welcome to ride their own bikes to and from the office. Centerline Digital caters to these bicycle commuters as well by providing them with ample bike parking and showers.
When asked what kind of advice John would give to another company hoping to implement a similar service, he said his biggest tip would be to ask employees what amenities they are looking for. When Centerline Digital asked this question of their own employees, they found that there was a desire for bicycle parking and amenities. They responded to those desires, and that is part of the reason the shared bike service has been so successful. His second piece of advice would be to make the shared bike service visible to employees and easy to use. Centerline Digital placed their rack of shared bicycles next to the front entrance. This makes it well seen, and helping to further increase its use.
To learn more about Centerline Digital visit their website.