Now that winter finally has us in it's icy grasp, I think it may be a good time to talk about some of the gear that can make riding in this weather more comfortable. I've been hearing a lot of "I don't have the right clothes" or "It's too cold out to ride my bike", and I think with a little advice we can help to change that! Check out the rest of the article below to keep warm and toasty during those cold winter commutes.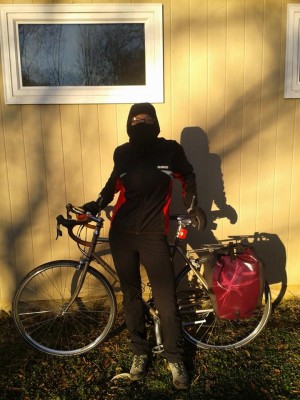 Allow me to start out by saying that the target climate for this information is Raleigh, North Carolina, and it's important to remember that it doesn't get that cold here in the winter time. It's also worth noting that these are my opinions, and even though I may be comfortable with just two layers on, doesn't mean that everyone will. I have a small inferno raging on inside of me when I ride, and I run warmer than most people (or, I sweat a lot). I'm not going to name specific products or brands, because you are smart and are capable of using the internet. With that in mind, let's roll on.
Layers
You're probably already aware about this one, but layers are the key to being prepared to ride in cold weather. Chances are, you are going to overdress and be hot after the first mile or two, so plan on easily being able to shed a layer as you start to warm up. Multiple thin layers are better than a single overstuffed coat for this very reason. Try to wear wool or synthetics instead of cotton as your base layer, as they will breathe easier and be less uncomfortable as you start to sweat. Anything that packs down easily into a jersey pocket or bag is a plus, so you can just stuff it and keep going.
Gloves
Your hands and fingers are going to be one of the first things feeling the chill, so it's important to keep them covered. There are a wide variety of different kinds of gloves for riding in different environments, so be sure to choose something to suit your style. You want full-fingered gloves, that are windproof and at least water-resistant. Other things to look for are padded palms to absorb road vibration, longer wrist cuffs to keep wind from going up your sleeve, and a wipe-cloth on the thumb to swat away any perspiration that develops. If temperatures are below freezing or you have poor circulation, I recommend a second pair to wear as liners.
Hat
You lose a lot of body heat through your head, so it stands to reason you should probably keep a warm lid on. Many companies make great winter cycling hats, which come lower than traditional cycling caps and cover your ears and more of your head. They are also generally a thinner thermal material, which will fit under your helmet easier without the need for adjustment than, say, your favorite poofy toboggan. Some of these hats have brims which are great for shielding your eyes from the sun or rain. I know my biggest problem is my ears getting cold, and there are also ear warmers that go around your head but leave the top of your head open to vent excess heat.  An ear warmer can be quickly stowed.
Socks
If you know me personally, you know that I am a huge fan of wool clothing. It feels great, retains heat but breathes well (even when wet), and doesn't smell nearly as bad as other materials. I only wear wool cycling socks, and my feet are all the happier for it. I found a local(ish) company that makes great wool socks, and their thicker winter version is perfect for cold weather riding. It's better to opt for socks that come up past your ankle or to mid-calf, past the cuff of your pants or tights. A lot of people wear thick hiking socks and report cozy toes, as well. In really cold or wet conditions, you may want to consider neoprene booties, which go over your shoes and help block the wind and wet.
Outer Coverage
A good winter jacket or coat is one of the best investments you can make for cold weather riding. You want to be able to block wind and insulate your core, but also be able to regulate your temperature and vent away built up heat. Performance oriented cycling gear does this, unlike many general-purpose coats which are mostly meant to keep you warm. Bike coats also tend to have longer arms (to cover the gap between wrist and glove), and longer tails to get optimal coverage while in a riding position. Not to mention reflective elements and handy pockets, which I know we are all big fans of.  Some jackets also have areas on the back and armpit to help you vent off excess heat and moisture. Concerned with wearing obnoxious looking cycling clothing around? Several companies are now making casual looking, urban bike clothing that blends in around the city but still retains the performance aspects we look for in quality gear.
Another thing to consider is your legs. You need to keep your leg muscles insulated, so wearing your regular bib shorts probably isn't going to cover it. I would suggest getting a pair of thermal tights, which you can wear under your regular shorts or bibs. If you're biking to work, you likely won't be wearing bibs but a pair of thermal tights also fits well under pants or trousers, and no one would be any the wiser that you are nice and toasty on the ride into the office!  Again, there are a growing number of options for nice pants that work well on and off the bike, and include features like water-resistance, elastic materials, and reinforced crotches/seats.
The best advice for winter riding is to just try it.  If you start in the fall you'll work out the kinks by the time the cold weather hits.  Hopefully this will help to keep you all warm and toasty, and staying in the saddle through the cooler part of the year! Do you have anything that you can't be without while winter riding? Share it in our comments section!