There is a quiet but certain grace in a well-tuned rotating paceline.  You see them every day, stretching and whirling up and down US36, the primary artery that runs across the face of the Front Range of the Rocky Mountains and through the small city of Boulder, CO.  Matching kit is the norm; professional sponsorship is unremarkable.  Gaunt pros shuffle around the local coffee shops, quick only when they need to beat you to that last empty table.  To many, Boulder is the picture of a cycling town, but, while I am currently a Boulderite, I find myself compelled to write about Raleigh. – Jake Clayton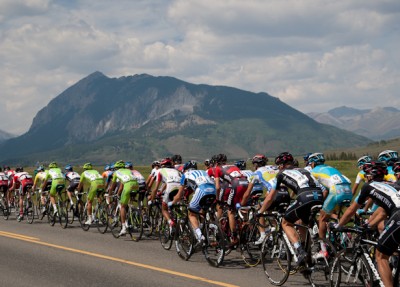 Having lived as a commuter and recreational cyclist in Raleigh and in Boulder over the last few years, I want to talk about some similarities, some differences, and some thoughts on why these observations matter.  I want to talk first about the differences between doing bicycle culture and being in bicycle culture.  Then, at the risk of sounding saccharine, I'd like to posit the idea that relationships are bicycle infrastructure.
In the few years I spent in Raleigh, the city built a lot of new infrastructure.  The Neuse River Greenway was revamped and extended.  That awful, rail-thin bike lane on Clark in front of Cameron Village came into being.  While some projects made more sense than others, the point is that the bicycle culture in Raleigh was growing fast.  That growth included the emergence of new bike shops, bike rides, bicycle-themed breweries, and bicycle festivals.
This is all good news, but, in reflecting on progress, it is all too easy to confuse doing bike culture with having bike culture.  To play the grammarian for a moment, I want to skewer the phrase "the growth included."   "Growth" is not an agent; it does not drive itself.  People made these new shops, rides, breweries, and festivals.  When people stop making, these things will stop existing. Saying it out loud, it seems like the most obvious thing in the world, but these opportunities to do were exactly what made me want to be a part of Raleigh's bike culture.  It is something of a contrast to bike culture in Boulder, where, with perhaps fewer problems left to solve, the bicycle population lacks the same kind of broad cohesion.  Community is more often found in spandex kits than in coffee shops.
This is not to say that brick-and-mortar infrastructure is bad.  New bike lanes and greenways and polo courts will make Raleigh better, but there is something valuable about the messy making of these things.  There is something valuable about the ability to "plug in," to bring what you do to the community and have that community find a way to use it.  It is no wonder that you find artists, designers, and engineers spearheading bicycle advocacy in Raleigh.  These are people for whom the making is every bit as valuable as having made.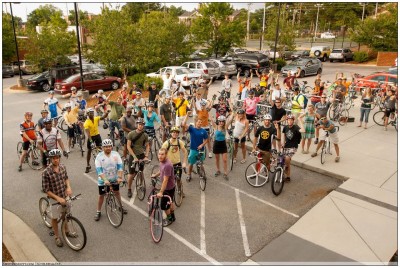 Over and over, I have said to myself (and now written to you) that there is "something valuable" in all of this, but I've been unable to articulate where, exactly, that value is located.  It is, finally, found in the idea that relationships are bicycling infrastructure.  My friends in Raleigh are the people that I rode with, and it was that interpersonal infrastructure that made Raleigh bike-friendly for me.  I don't know if there's a way to keep up the appetite for making rather than having made, forging rather than having forged, but I can attest to the loss and the sense of alienation that comes with moving to a town that is much more content in the resources it already has.   I can speak to the value of a shared goal.
Here's hoping that Raleigh can keep doing.
Guest Post by Jake Clayton.  A North Carolina native, Jake now makes his home along the Front Range in Boulder, CO.  He is confused by the snow but alright with the view.  He think Shimano's 600 groupset is the pinnacle of cycling technology.  Set to finish his PhD in 2017, he is not holding his breath