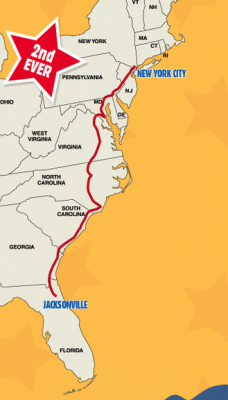 Here's your chance to ride your bike, mingle with long-distance cyclists Cathy and Myron Skott as they make their way 900+ miles up the eastern coast of the United States, AND have free ice cream to boot!  We're excited to announce the 2014 Cabot Community Tour is cruising down the east coast with a stop in downtown Raleigh on Saturday, May 31st.
Crank Arm Brewing Company will lead a casual hour-long ride around downtown Raleigh to parts of the area's greenway system.  Oaks and Spokes will be providing support during the ride.  Afterwards, participants will return to the brewery for a celebration with craft beer from Crank Arm, cheese from the Cabot Creamery, and ice cream from Ben and Jerry's.
What: Casual ride to celebrate community, beer, and ice cream
When: Saturday May 31st, 201 @ 12 Noon (arrive at least 15 mins prior)
Where: Crank Arm Brewing (319 W. Davie St,)
Who: East Coast Greenway Alliance, Oaks and Spokes, Crank Arm Brewing, Ben and Jerry's, Cabot Creamery, and …..you.
Cost: Absolutely free
This feat in distance cycling is meant to spread the message that one way to build a better world is to ensure that we live in strong, healthy and unified communities. The 2014 Cabot Community Tour starts in Jacksonville, FL, and travels north ending roughly 900 miles later in New York, NY.  This year's route follows the East Coast Greenway, and celebrates those who give their time, strength and skills in order to make our communities stronger.