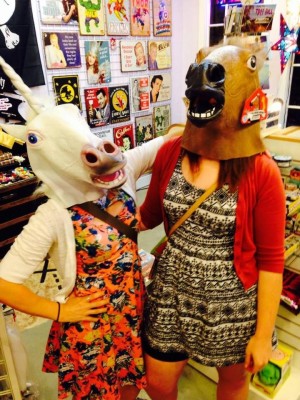 It's that time of year again, when you step out of the shower and are immediately drenched in sweat. July feels like an oven set to 350 degrees on broil. So what's a bike commuter to do? Look no further; these Raleigh women have a few tips on how to stay dry, stylish and comfortable while riding despite the summer heat.  While your specific situation will depend on your office and the distance and terrain on your commute, these ladies will get you thinking about how to stay dry and comfortable at work.
Keep a Few Outfits in Your Cube
Kristy, researcher at North Carolina State University, bikes to work each day with the peace of mind that she has several backup outfits at her office. Kristy keeps a few pairs of heels, several belts, about five dresses, and a couple of cardigans on hand so she can change into them when she gets to the office. She has solid colors on hand that are easy to mix and match and keeps a towel on hand. Though she rarely uses it, she is fortunate to have access to a shower for those really hot days.   Over the door hooks with 4-5 hanger spots work great.
"At first I thought I would have to hide the fact that my office doubles as a dressing room, but I think my colleagues respect my decision to bike to work and have better things to worry about than how I get presentable," says Kristy.
Underpants! How to Stay Dry…Everywhere
Tired of sweaty underwear after your ride? Willamina O'Keefe kissed sweaty undergarments goodbye by opting for quick-drying shirts with built-in-bras and cycling tights. Her clothes sometimes get a bit sweaty so if she does need to hang up any clothes in her cubicle to air out, she takes advantage of her coworker's curiosity by encouraging them to try biking to work if they inqure about her garments.
The One-Outfit Wonder
You've lucked out if you have a shower in the office, but many bike commuters aren't that fortunate. Or, it might feel like too big of a step to keep your work outfits to the office. Michelle Wilcox, software developer with Ipreo, doesn't want the hassle of swapping outfits so she picks clothes that are flexible and breathable.
"Jeans can get sticky with all the humidity, and I frequently find myself biking in a summer rain shower so I invested in some Outlier pants," says Michelle. "It's hard to avoid wearing cotton, but the Giro New Road line has some nice shirt options that are made of mostly Merino Wool."
Michelle also wears Chrome City SPD shoes almost every day. She says that DZR offers a few more casual SPD shoe options, and Oak City Cycling Project is a dealer for Giro, Chrome, and DZR.
For the Post-Work Bike Ride
For some folks, it's tough to bike to work due to the lack of safe routes, busy roads or long commutes out to Research Triangle Park and beyond. Julia Garland, marketing coordinator at WSP USA Corp, says her office is too far to bike (17 miles!) but she has functional and fashionable cycling fashion down to a tee for the post-work hours riding to and around downtown Raleigh. Julia enjoys biking after work and on the weekends in bandanas or a cute cycling hat to hide sweaty helmet hair. You can always find her biking in cotton dresses year round since they offer room for movement.  She's stocked up on $5 shorts from Forever 21 which work well as biking shorts she can wear under her summer dresses.  In the colder months she opts for leggings and a cardigan.