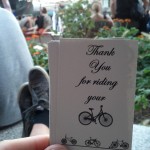 We got a lot of questions from folks when we did the Oaks & Spokes Bicycle Festival in Raleigh in March of 2012. Namely, there were a lot of people interested in knowing how we had met and what had prompted us to put on the events.
And in the short madness of the festival, we didn't always manage to come up with a thorough answer for who we are.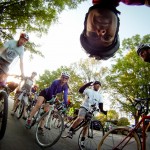 We met through what cycling events that have existed over the past few years, and have stayed together because of our love for bicycles and our desire to spread that love with other people in this city. The festival allowed us to do that, and to show everyone that there is indeed a vibrant and growing two-wheeled culture in Raleigh, NC. It also allowed us to take advantage of our diverse network of personalities and abilities. One of the most wonderful things about everyone who rides bikes here is how they all enjoy different styles of cycling but still all enjoy spending time together. Road racers, mountain bikers, polo players, and greenway cruisers can all come together to celebrate the bike, and in places where cycling culture is thriving, those groups often remain separate. The Oaks & Spokes Bicycle Festival was an opportunity to share our passion and information with others, and to give people the events and opportunities to love their bikes as much as we love ours.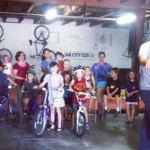 As we move forward with this website and organization, I'm sure that people will once again be curious as to what is driving us. On an individual level, we all have things that we want to accomplish. By sharing our desires and considering our options, we have arrived at a simple idea: Bicycles play an extraordinarily important part in our lives and also are very important to the future of Downtown Raleigh. We would like to try to avoid the label of being an advocacy group, because we think that sounds kind of uptight and stiff. Not to say that we won't help to play a part in the development of bicycle infrastructure and legislation here, but that's not what we are here for. More than anything else: it is for the people. We want to give everyone a central "hub" of information where they can find bike events or rides. We will have reviews of bike products and share information about local businesses that support cycling. We'd like to increase awareness about cycling safety and laws, both for riders and the motor vehicles that they share the roads with. We want to give people a reason to wake up and go "I think I'll ride my bike today!".
The bicycle has for too long been considered only a toy or for athletes, and it's time to change that perception. Granted, riding your bike does kind of make you feel a childlike sense of joy and there are few things as exhilarating as speeding along in a pack. But there is so much more than that. Try riding your bike to get groceries or loading it up for that weekend camping trip. Ride to work, or out to meet your friends after work. Ride on the weekly social ride to meet new people or ride on the weekend by yourself to get away from them. Or just ride, without reason or destination, because you'll quickly find a sense of freedom and adventure that will become all the reason you will ever need.
We are Oaks & Spokes. We love bicycles.  We want to share that love with the people of Raleigh.