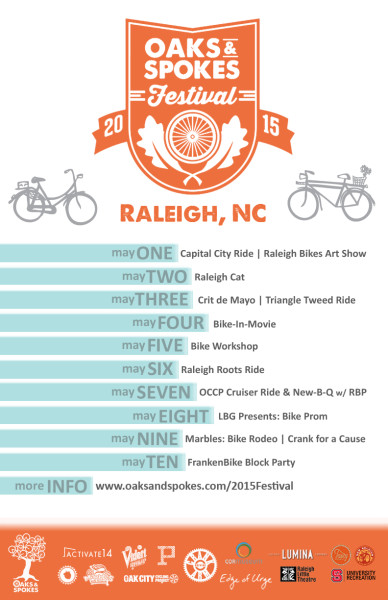 Oaks and Spokes 2015 Festival Poster (11×17 | PDF)
Handbills – 4 per Sheet (8.5×11 | PDF)
Oaks and Spokes Festival PSA (Audio | MP3)
Join us for 10 packed days of bicycle events and culture!  We have a little something for just about everyone.  Click on the poster for a link to the most up to date information or see below for a brief description of each event:
Capital City Ride | FRIDAY MAY 1 | IF ADVOCATING IS THE NAME OF YOUR GAME…support cycling in the Triangle! Ride and brush elbows with elected officials, City employees and fellow bicycle advocates.  Of course you have to wake up early to affect real change.  It's not supposed to be easy.
Raleigh Bikes Art Show | FRIDAY MAY 1 | IF YOU REVEL IN THE ARTS…mingle and mix among custom hand-made bicycle frames, bike related paintings, photos, sculpture, sketches, prints, crafts and more.  Featuring work from local artists!
Raleigh Cat | SATURDAY MAY 2 | IF YOU LIKE MYSTERY AND ENJOY THE HUNT…get your fix on in a bicycle-powered scavenger hunt engaging you, your friends and your community.  Get rolling and get prizes.
Crit de Mayo | SUNDAY MAY 3 | IF YOU HAVE THE NEED FOR SPEED…join or spectate as the fittest of the fit go head to head and go whizzing by in our very own Raleigh criterium race.
Triangle Tweed Ride | SUNDAY MAY 3 | IF YOU'D RATHER BE STOKING YOUR PIPE…lolly on down in your vintage duds and pack a picnic for two.  This social mingle with a ride through Raleigh neighborhoods brings out the best in cycling style.
Bike-In Movie | MONDAY MAY 4 | IF YOU WANT TO EXPERIENCE A NEW 'TAKE' ON A 'MOTION PICTURE'…ride on in and catch a flick on the big screen.  Sorry about the puns folks.  I just can't help myself here.
Bike Workshop | TUESDAY MAY 5 | IF YOU NEED A LITTLE HELP FROM YOUR FRIENDS…we'll be wrenching it!  Volunteers will be ready to assist and give simple instruction on small bicycle repairs and tune-ups.
Raleigh Roots Ride | WEDNESDAY MAY 6 | IF YOU LIKE IT A LITTLE WEIRD…join us as we explore downtown Raleigh's most intriguing sites by bike. Find out just how much you really know about Raleigh's unique history.
OCCP Cruiser Ride and New-B-Q | THURSDAY MAY 7 | IF YOU'RE JUST A NEWB…it's cool.  Come out to find new friends, cruise leisurely, and learn some skills at bicycle polo!  And don't forget the barbecue!
LBG Presents: Bike Prom | FRIDAY MAY 8 | IF YOU WANT TO DANCE, DANCE, DANCE…throw on your party dress!  Heels?  No problem!  We encourage ladies to ask the guys, Sadie Hawkins style.  Curl it up and DIY with a variety of pre-prom activities.
Marbles Bike Rodeo | SATURDAY MAY 9 | IF YOUR TYKE HAS A TRIKE…or a bike! bring them to this event where kids will learn a slew of bike safety smarts.  Gotta have something for the little'ns.
Crank for a Cause | SATURDAY MAY 9 | IF YOU LIKE TO SPIN IT RIGHT ROUND BABY…get a team together and put your pedal down in this stationary cycling challenge in Raleigh's warehouse district.  Live music and craft beer round out the party like atmosphere.
Frankenbike Block Party | SUNDAY MAY 10 | IF YOU'RE NOT AFRAID OF MONSTERS…you'll want to come out to the finale of Oaks and Spokes Festival.  Seriously, who could be afraid of a block party?  Buy, sell, and swap bike parts.  Eat food.  Revel in the glory of the last day of this madness.